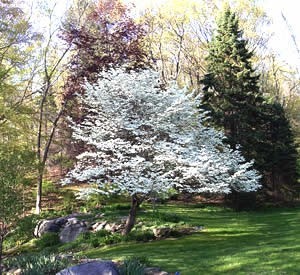 Dogwood trees are not the easiest tree to grow. Mother Nature does a fine job growing them but human gardeners aren't so good at it. That being said, when planted in the right environment and using the right method, anyone can have success growing a dogwood tree.
Before planting a Dogwood tree in your yard make sure to read the points below!
In the wild, Dogwood trees grow naturally in the edges of woodland areas where they will receive partial shade to dappled light. They grow well in moist but well-drained, acidic soils that are rich in organic matter. Constantly wet or soggy soil around the roots can cause serious problems and even be a killer.
Dogwood trees (Cornus) are generally winter hardy to about minus 20 degrees F, and grow well in Zones 5-9 in the United States.
Dogwood trees will grow in sun or shade however, in their natural habitat, you would usually find them growing as understory trees in the dappled sunlight of the forest, or on the edges of woodland borders. Ideally, and especially in the Southern U.S., Dogwood trees prefer to be grown in locations that provide shade or filtered sunlight during the afternoon hours. Direct afternoon sunlight in these hotter regions does not kill trees but the newest leaves of some varieties may burn and/or scald. That being said, there are some varieties that grow well in full sun. Check with your local nursery and garden center professional to see what varieties do best in your area.
Continue to next page to find detailed planting instructions...