I've been gardening for several years using raised garden beds for my vegetable garden. The first year I tried gardening with raised beds, I made my own using plywood I bought from the local hardware store. Since then, I've found an easier way to construct my garden beds—with a raised garden kit that I put together myself. Based on my own experiences, I can give a positive review of a raised garden kit for making gardening much easier.
While putting together your own raised garden beds is cheaper, it is time consuming. Locating the plywood, cutting it to size (and getting it even) are challenges. Plus, you have to make sure you attach stabilizers all around to keep it in the ground. I did this with a lot of hammering and a lot of sweat, but those days are over once I discovered that I could purchase a ready-made raised garden kit.
Target has such a kit, with their 8 panel raised garden bed. At nearly 46 by 46 inches, this bed yields a perfect square. Made from a sturdy resin, the materials resist weathering unlike the homemade garden beds. Target's raised garden kit comes with connectors and stakes that are easily put together. When I put my new garden kit together, I was amazed at how little time it took - probably about ten minutes or so, if that long. The resin material is an attractive brown and certainly beats the look of my now graying plywood garden bed.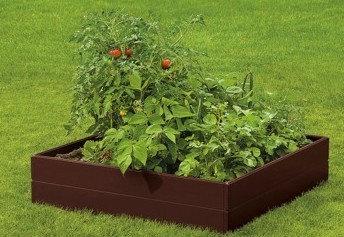 Raised garden bed reviews are generally positive. Customers are impressed with the ease of putting the kits together, as well as with the durability. A few customers have complained about the sides bowing out in the middle after a year or so. I've had my raised garden bed out in the elements for over three years, and I haven't found this to be true at all. Mine has kept its color as well as its shape. I couldn't be more pleased with it and thus can give a positive raised garden kit review.
The Target 8-panel raised garden kit can be put together in different ways as you purchase more kits to expand it. This 8-panel raised garden kit is not sold in stores, so you'll have to order it online. For me, gardening with ready-made raised garden kits is the way to go!