As a Japanese Maple collector located in a warm climate I am constantly looking for the perfect solution in helping my trees resist stress caused by hot direct sunlight and high temperatures. Discovering correct watering intervals, fertilization, along with additional nutritional supplements to help increase my trees resistance to this stress has been challenging. Stress in the form of insect infestation and disease is always a concern but stress from too much direct sunlight and/or hot temperatures causing leaf scorch, total leaf burn, and dropping of leaves can be a frustrating occurrence to many of us Japanese Maple collectors. I have come to realize some leaf burn on Japanese Maples especially those grown in warmer climates is inevitable but can be kept to a lesser degree when the trees are provided with proper nutrients for healthy growth. Nutrients that develop strong root systems, stems, and foliage help the plant with the proper intake of nutrients and transpiration creating a well balanced system that helps the tree to resist not only stress from excessive heat but insect and disease.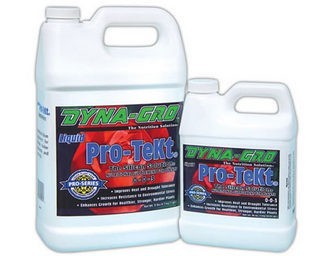 Two years ago after reading several recommendations from quality Japanese Maple growers and research studies by the University of Florida, Minnesota, and others I elected to add the Dyna-Gro Pro Tekt to my watering program and normal yearly fertilization. The first year I felt my Japanese Maples showed an increased resistance to the summer heat as the amount of leaf scorch was less than the prior years. Normally most of my maples growth slows during the warmer summer months and by the end of August are experiencing enough leaf damage to allow very little fall coloring. The Spring and Fall seasons are much anticipated times for maple growers as there are very few plants that produce as beautiful an array of coloring as the Japanese Maples do during these times. This year my maple collection has shown a substantial increase in their growth and resistance to direct sunlight and heat with very to no little leaf scorch on most of my trees. Without any changes to my normal watering program, fertilization, and climate temperatures I can only assume the addition of supplemental potassium and silicon in Dyna-Gro Pro Tekt has been beneficial. Continued growth during the warm summer months and their resistance to hot temperatures has been more than I had expected. I am now anticipating more healthy foliage into the fall season than I have had in prior years hopefully producing the beautiful fall colors we maple growers look forward to.
This year I will be adding the Dyna-Gro Pro Tekt nutrient supplement to the watering of other trees and shrubs. At this time I am optimistic that the continued use of this nutrient supplement in the watering program of my Japanese Maples and other plants will continue to be beneficial to their health. Not only the plants increased resistance to environmental stress (hot summer temperatures) but Potassium Silicate as a natural fungicide will help to build resistance to pests and fungal disease attacks.
Benefits of Potassium Silicate
Using a good Potassium Silicate product in your feeding program can increase tolerance of environmental stress, heat, cold, drought, water and soil toxicity or deficiency. Growth rate both in the root zone and in the plants foliage can be increased. Research has shown that by using Potassium Silicate with the production of plant seedlings an increase of root development by 80% was achieved.
Potassium Silicate is a natural fungicide, it helps build the plants resistance to attacks by insects, and fungus disease. Potassium Silicate helps the plant's growth by depositing itself in the plants epidermal cell walls increasing stem strength, making it easier to support its growths weight and helping to balance nutrient uptake and distribution, enhancing the plant's ability to keep the leaves pointed towards the light source. It also increases the stem strength, making it easier to hold up more weight. As the plant builds it self up with Potassium Silicate, it helps with balancing nutrient uptake and distribution. It also helps to increase concentrations of chlorophyll that is vital for photosynthesis (changing light into usable energy).
Potassium Silicate Increases Resistance To Disease
When Potassium Silicate is deposited in the epidermal cell layer in a plant it acts as a barrier against penetration of fungal attacks from powdery mildew, black spots, pythium and phytophthora and many more fugal diseases. Silicate also increases the mechanical strength of the plant to help it in extreme heat and cold, salt build up in soils, and an increase of dissolved metal build up. Potassium Silicate also helps to control the rate of transpiration of plants. Controlling a plants rate of transpiration is essential as excessive transpiration will cease plant functions causing stunting or decreased growth. Controlled rate of transpiration improves resistance to wilting and other water related stresses such as too much or too little water.
Many of us have elected to use organic nutritional products in our gardening. Potassium Silicate is not listed as organic, but through much research has been proven to produce great benefits when used in organic gardening. Based on research that has been made Potassium Silicate has not been found to be harmful to soil beneficial bacteria. Many have found Potassium Silicate supplements added to their organic nutrients to be beneficial in producing faster, healthier growth.
Dyna-Gro Pro-Tekt Product Data Sheet.
http://florawww.eeb.uconn.edu/msds/Pro-Tekt_DataSheet.pdf
Update - September 2015
I have continued to fertilize my Japanese maple collection with Dyna-Gro 7-9-5 General Purpose Formula and the Dyna-Gro Pro-TeKt 0-0-3 (The Silicon Solution). Again this year my Japanese maples have shown a continued resistance to heat stress. All my trees especially the split leaf cultivars which normally show leaf scorching by August have very little to no damage. After many days this summer with temperatures over 100 degrees I am looking forward to leaves that will have great fall coloring again this year.
Update - August 23, 2016
Another hot summer with many weeks with daytime temperatures in the triple digits. I am actually amazed at the resistance to the heat my Japanese Maple collection has shown. Even over last year the difference I'm seeing is much more than I had expected. Most of my maples get morning sun with filtered light in the afternoon. Most of my leaf scorching or browning of the leaf tips and margins in the past was normally the affect of hot temperatures. Even the few trees I have located in full sun have shown much more resistance to burning. Nothing has changed regarding my watering schedule, fertilization, or planting medium. I can only attribute this growing tolerance of environmental stress such as our heat and continuing drought to the use of the Dyna-Gro Pro-TeKt (Silicon Solution).