Advantages to Fall Planting
I've been landscaping professionally in the Atlanta, Georgia area since 1984, and have been the co-owner and operator of a nursery and garden center since 1989. Based on my experience, when it comes to planting shrubs, trees, perennials, certain types of flowering annuals, and many other plants in the southern United States, don't let anybody convince you that there's any better time to plant than fall...and, in fact, the entire winter.
Minimal Care While Plants Are Establishing Themselves
With the exception of pansies and other cool season annuals, and fall veggies, which continue to grow and flower during the cool season, most other plants, such as perennials and ornamental shrubs and trees, are going dormant when fall arrives. And there's no better time to plant these hardy ornamentals than during the dormant season.
How do we know when ornamental plants have gone dormant? That's easy. When the leaves begin to turn color and drop from deciduous trees in early fall, this is the indicator which lets us know that all other hardy ornamental plants and trees in the environnment are also starting to enter dormancy.
Shrubs, trees and hardy perennials planted during the fall will require very little if any care during the dormant season. Though the plant stops growing above ground during dormancy and will not require trimming or pruning, when planted in during fall, many types of hardy plants will continue to grow roots underground, establishing themselves in their new home. When soil temperatures drop during mid winter, the roots may stop growing. When this happens, plants won't drink much water so there's very little if any need for supplemental irrigation, provided there is average rainfall.
Then, when spring comes, fall-planted plants will be there to benefit from the heavy spring root flush, further establishing their root systems before summer and warmer temperatures arrive. This establishment of a good root system early on just means less need for watering during the first summer. That being said, during prolonged periods of drought, supplemental irrigation may stilll be necessary.
Better Selection**
It makes sense that during the fall season you'l find more fall-flowering varieties of plants, and plants that change their foliage color during the cool season, at local nurseries and garden centers.
Camelias, Encore azaleas (Autumn Sunset pictured right), and Knock Out and Drift roses are just a few of the fall-flowering shrubs you can plant to provide abundant flower color in the fall landscape.
---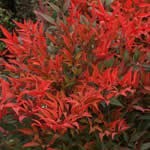 The foliage of some evergreen shrubs and trees such as nandinas, some varieties of azaleas, and many conifers turn brilliant shades of color throughout entire cool season, then turning back to their warm season color in early to mid spring.
---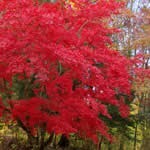 Deciduous shrubs and trees such as maples (Glowing Embers Japanese maple pictured right), crape myrtle, dogwood, ginkgo, flowering cherry, bald cypresss, burning bush and many others, also provide brilliant foliage color before their leaves drop.
---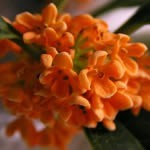 Other plants such as white, yellow or orange tea olive (pictured right) are prized for the fragrant flowers they produce in the fall landscape. One tea olive can fill a backyard with sweet perfume! These fragrant wonders will then flower off and on throughout the cool season and into early spring during the slightly warmer periods.
---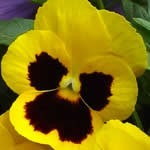 When it comes to annual flowers you can't beat pansies (Matrix Yellow pictured right), and their dwarf cousins: violas, for providing abundant flower color through fall, winter and early spring. These floriferous annuals, combined with other cool season annuals such as flowering cabbage and kale, are useful in small to large flowerbeds and container gardens which can be situated throughout the landscape.
---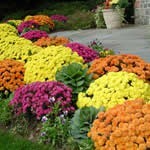 When it comes to fall-flowering perennials hardy garden mums are unrivaled for adding vibrant splashes of color in the landscape or flower garden. Hardy ageratum, swamp sunflower, and asters are others that produce lots of colorful flowers during the fall. Some evergreen perennials, such as the autumn fern and villosa hybrid varieties of heuchera (corla bells) prvide handsome splashes of foliage throughout the cool season and all the other seasons as well!
---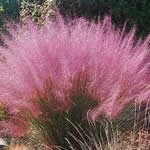 When it comes to fall color in the landscape, ornamental grasses, such as muhly grass (pictured right) are often overlooked. These tough, easy to grow, grassy plants come in all shapes and sizes to fit any situation. Many produce eye-catching flowers or plumes or foliage color in fall and do a marvelous job throughout the rest year providing texture and vertical accents in the landscape.
---
Fresh Air & Excercise
Something about the fall air - it's clean, fresh and the smells around are comforting. The hot and humid summer is gone. So, pull that sweater out of the closet, visit your local nursery and garden center to pick out some colorful cool season color, grab a pair of gloves and a shovel and add some color to the fall landscape. You'll be happy you did!