ABELIAS
A Kaleidoscope of Year Round Color!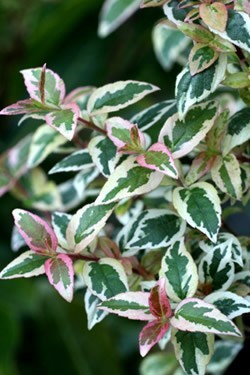 I am co-owner of a nursery and garden center located in north-central Georgia. When we opened our nursery in 1989 there were only 3 varieties of Abelia on the market: 'Glossy' (the original tall-growing variety) and two smaller versions: 'Edward Goucher' and 'Sherwoodi'. All of these had green foliage and either pale lavender or white flowers. But, that was then and this is now. Even though these older varieties have stood the test of time, and are still offered today by many nursery and garden centers, in recent times they have taken a back seat to many new cultivars that offer a kaleidoscope of bright and stunning foliage colors on dwarf shrubs that are more versatile in many of today's landscapes.
In addition to the colorful foliage, Abelias produce an abundance of fragrant flowers that appear throughout summer into fall. Butterflies and hummingbirds love the flowers. They are also exceptionally drought tolerant and require very little care or maintenance. Did I forget to mention that the foliage is evergreen? This means that abelias hold their foliage throughout the winter, many changing color as do nandinas. That being said, in zones further North where they will grow, some abelia varieties might be semi-deciduous, meaning they will lose some of their leaves during winter.
Abelias are exceptionally easy to grow!...and that's why our nursery's designers include them in every design they do and every landscape they install. Abelias aren't picky about soil type as long as its well drained. Though they will appreciate a moist soil during the first season after planting, as with so many other shrubs, constantly soggy or wet soil can cause problems. So, in the absence of rainfall, water abelia only enough during the first season to keep the soil moist, but not wet. Abelias will thrive in all-day sun however do equally as well in partial shade. I feed all the abelia in my own landscape in early spring with a well-balanced shrub and tree type fertilizer and then again in early summer with a non-burning organic fertilizer such as Milorganite or Nitroganic.
Abelia Varieties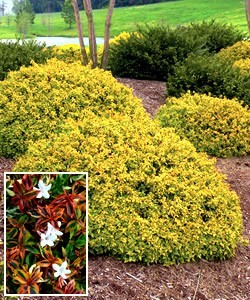 Below is a list of some of my favorite varieties of Abelia. Click on a variety to view its Plant File.
Confetti - Grey-green leaves with a wide white margin make the shrub appear white from a distance. Foliage turns pink in winter.
Kaleidoscope (Pictured Right) - Golden-yellow foliage in spring and summer turns to orange-red in winter. White flowers through summer into fall.
Mardi Gras - Golden winter foliage turns to nearly white with pink new growth through the growing season. Pure white flowers with pink bracts during summer into fall.
Rose Creek - Shiny dark green leaves turn to burgundy-purple in winter. White flowers with rose colored flower bracts persist through fall and well into winter for extra garden appeal.
Super Gold - Blinding yellow foliage throughout the year with white flowers during summer into fall.
Twist of Lime, Lemons & Lime, and Lime Zest - We think these three cultivars are the same plant released under different tradenames. Bright, variegated foliage that is yellow with green centers when young, maturing to ivory and green
The Many Uses of Abelia in Landscapes & Gardens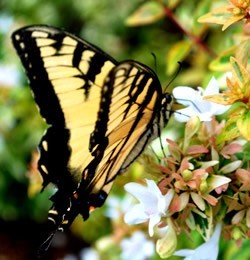 Our designers use Abelias in every design they do and in every landscape installation. You just can't go wrong with these tough but beautiful long-lived shrubs.
As accents or staggered rows in home foundation plantings
As a border or in small to large groupings for splashes of bold color in landscape beds
In mass or groupings on slopes for splashes of color and erosion control
As a low hedge to separate garden spaces or to surround a patio or deck
As underplanting for small trees such as crape myrtle, Tea Olive and Japanese maple
In raised raised garden beds and planters
In perennial, butterfly and hummingbird gardens
In rock gardens and Xeriscapes (low water need landscapes)
Good Companions
Here's a short list of plants that share the same requirements and needs and also combine texturally and color-wise with Abelias
Miscanthus/ Maiden grasses
Barberries
Junipers
Spirea
Hollies
Nandina
Tea Olive
Sedums
Happy Landscaping!