An Ancient Remedy
Aloe Vera has been valued for it's variety of uses for over 3,500 years. The name 'Aloe Vera' translates from Latin to literally mean 'True Aloe', and is considered to be the most effective out of hundreds of types of Aloe. It is the clear jelly found within Aloe Vera's juicy green leaves that is one of Earth's oldest panaceas, containing over 200 active components including vitamins, minerals, amino acids, enzymes, polysaccharide, and fatty acids.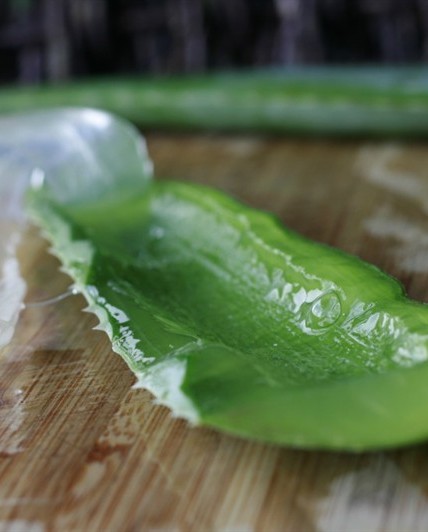 When taken internally, Aloe Vera juice is effective at many things:
to reduce inflammation of the joints
alkalizing (reducing acidity) in the body
acting as a natural laxative
restorative to the liver
lowering high cholesterol
...just to name a few. However, using these methods to preserve the Aloe's gel render it for external use only, but its effects on our skin are quite amazing.
The Solution for Skin
In Sanskrit, the clear Aloe Vera gel is referred to as "kumari", which translates to "Goddess". This is because in Ayurvedic medicine, Aloe Vera is known as estrogenic, or having significant tonic and restorative properties for women. When used externally, Aloe Vera gel deeply hydrates skin. It improves cardiovascular performance, and helps regenerate skin cells. This is why Aloe Vera gel is so often found to be the main ingredient in expensive anti-aging creams, sunblock, and scar diminishing products such as Mederma. It can even be used to treat radiation burns from chemotherapy. The effects of Aloe Vera externally are not just good for the skin's appearance, it improves the overall well-being of your skin. Aloe Vera is antimicrobial, antiviral, antibacterial, antiseptic, and antifungal. It can be used to disinfect cuts and surprisingly enough, treat vaginal problems.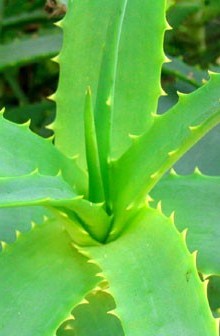 Are you convinced yet that you should always keep Aloe Vera around the house, where it is easily grown in pots with minimal maintenance?
Fresh from the leaf gel is soothing and easy to harvest, simply pinch the tip of a leaf and squeeze the jelly out. For times when you don't want whole leaves or plants to be wasted when your Aloe grows too large, or if you don't grow Aloe but find its luscious leaves for sale whole at the market, the next page will instruct you on how to preserve the miraculous healing Aloe Vera gel as close to its natural state as possible