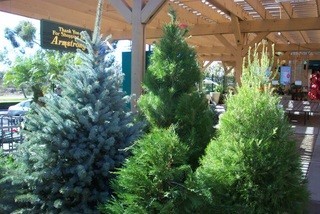 Every year millions of families will be shopping for their perfect Christmas tree, a wonderful symbol of Christmas. Millions will be purchasing a "real" cut Christmas tree from a tree farm or local Christmas tree lot. Searching for the perfect Christmas tree can be a real challenge but buying early can help in finding a specific type of tree, less competition for a higher quality tree, and most important a fresher tree that will last longer in your home. Mid November to the first weekend after Thanksgiving is a good time to shop for your tree. The weekend after Thanksgiving according to the National Christmas Tree Association is when most Christmas tree shopping occurs. Natural occurrences such as disease, fire, drought, and storms may cause some Christmas tree shortages in your location making some trees hard to find. Buying early will make your searching much easier. Many Christmas tree farms will allow you to purchase and tag your tree for cutting and pick up at a later date. This assures a fresher tree for your home when you are ready to display it. Buying your tree from a local Christmas tree lot early allows the tree to be placed in water much earlier keeping it fresh until Christmas. Trees purchased from lots have been cut some times a couple of weeks earlier allowing them to dry out faster with less ability to absorb the water needed to keep them nice through the holidays.
Purchasing Your Christmas Tree From a Lot or a Farm
Before searching for your perfect Christmas tree determine the shape, height, and width you desire in a tree to fit well in the space you will be displaying it. Keep in mind also that some lower limbs may need to be removed if you want space under the tree for gifts or decorative items under or hanging on the tree. You don't want to get home to find that removing some lower limbs has spoiled the size and shape of your tree. When purchasing your tree from a Christmas tree lot you want to make sure it appears green and healthy. The main thing you want to look for when buying your tree from a lot is the tree's freshness. The tree should have a fragrant smell, appear moist, and have flexible needles. Branches should be pliable and bend without much resistance. There should be no evidence of drying or browning of the needles. If possible lift the tree and bounce it gently on its cut end, and shake it. A few older needles dropping is normal but if the tree drops more than a few of the needles when shaken it would be best to look around further for another tree. If the tree has been wrapped to protect it from shipping damage, have a lot attendant unwrap it for you. Stand it up and shake lightly so that limbs fall outward naturally. At this time you can inspect the tree for any broken limbs or areas that may be void of limbs. When purchasing a live Christmas tree from a farm that is still growing in the ground none of this checking for freshness should be necessary as the tree will most likely be green and healthy. The trees branching and shape can be easily seen before cutting your tree down.
Caring For Your Tree At Home
Once you get your Christmas tree home cut one inch off the base of the trunk. A fresh cut will allow the free flow of water into the tree to preserve its freshness.
Place your tree immediately in water. If you are not going to display your tree at this time set the tree in a bucket of water and place it in a cool protected area out of any direct sunlight. If displaying your tree, set it in a sturdy Christmas tree stand that has a water-holding container. The container should hold at least a gallon of water as your tree can use up a large amount of water daily. Displaying your tree without setting it in water will only cause your tree to dry out quickly most likely well before the holidays.
Water your new tree until it stops taking up water. After this, it is important to check several times daily making sure the water in the container never falls below the freshly cut base of the tree. Allowing the base of the tree to dry out will cause premature drying of the tree. If this should happen and the tree's base has dried for three or four hours a new one- inch section should be cut off the base.
If possible display your Christmas tree in a cool place away from any warm drafts from heating vents and fireplaces that could dry out your tree and compromise its freshness.
Watering your tree with regular tap water is all that is needed. Research has shown that additives such as sugar, aspirin, 7-up, and other products added to the water are not necessary to keep your tree fresh.
After the holiday you want to remove your tree before it dries out. Properly cared for trees will normally last through the Christmas holiday but after this a dried tree can become a fire hazard in your home if not removed.
Besides the enjoyment of decorating your new Christmas tree searching for the tree can be just as enjoyable. Make shopping for your Christmas tree a fun occasion for the whole family to enjoy. Plan a whole day, with nothing else that has to be done, and shop early making finding the perfect tree a truly special event for the whole family.
For me the Christmas tree is a wonderful symbol and reminder of our salvation and forgiveness through Jesus Christ. I wish you all much enjoyment with your new Christmas tree and a blessed holiday season.