When it comes to creating a landscape garden, the most difficult thing is often the starting point: selecting the first type of plant. Then, from there, companion plants are selected. The small landscape garden design below was designed using Liberty Holly (Ilex hybrid) as a the featured plant. Use the design "as is" or modify it to fit your unique garden space.
Feature Plant Description
Another fine selection from the Southern Living Collection, without a doubt, the Liberty Holly is one of if not the most attractive of the evergreen tall hollies to ever come on the market. Liberty forms a dense, pyramidal, evergreen shrub with lustrous, dark green foliage. If Liberty Holly had no other characteristics these would be enough to recommend it. But of course, being a holly, in late fall the branches are smothered in bright scarlet berries that contrast strikingly with the deep green foliage. And, best of all, these berries persist into winter and boughs can be used for Christmas decorations.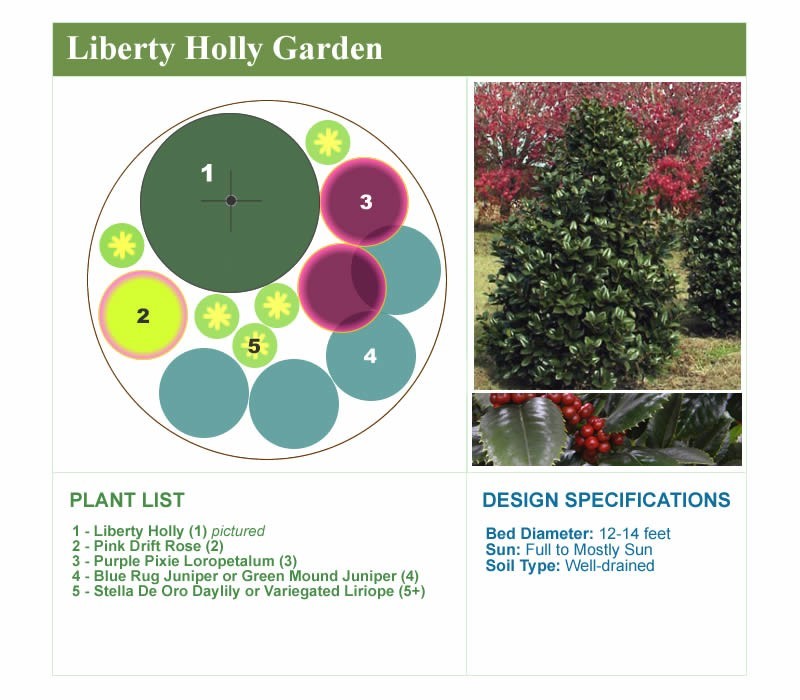 Plants Used in Design
Click on a plant below to find pictures and details on its Gardenality Plant File
1 - 'Liberty' Holly - Ilex x 'Liberty'
2 - Pink Drift Rose - Rosa 'Pink Drift'
3 - 'Purple Pixie' Loropetalum - Loropetalum chinensis ' Purple Pixie'
4 - Blue Rug Juniper - Juniperus horizontalis 'Wiltonii'
5 - 'Stella De Oro' Daylily - Hemerocallis 'Stella De Oro'
IMPORTANT: Always be sure to check USDA Plant Hardiness Zones for each plant to make sure it will grow in your zone. If a plant will not grow in your zone ask your local nursery and garden center professional to recommend a comparable plant.