When it comes to creating a landscape garden, the most difficult thing is often the starting point: selecting the first type of plant. Then, from there, companion plants are selected. The small container garden design below was designed using a specific feature plant. Use the design "as is," modify it to fit your unique garden space, or use it just for companion planting ideas.
Feature Plant Description
The dwarf Alberta spruce is a very attractive coniferous evergreen tree that has many uses in the landscape. It's slow growth and conical shape is especially nice when used in containers. Whether left in their natural conical shape or trained into topiary forms these diminutive evergreens are an easy way to add a formal accent to your landscape. Lots of folks decorate them during the holiday season as a small indoor or outdoor Christmas tree.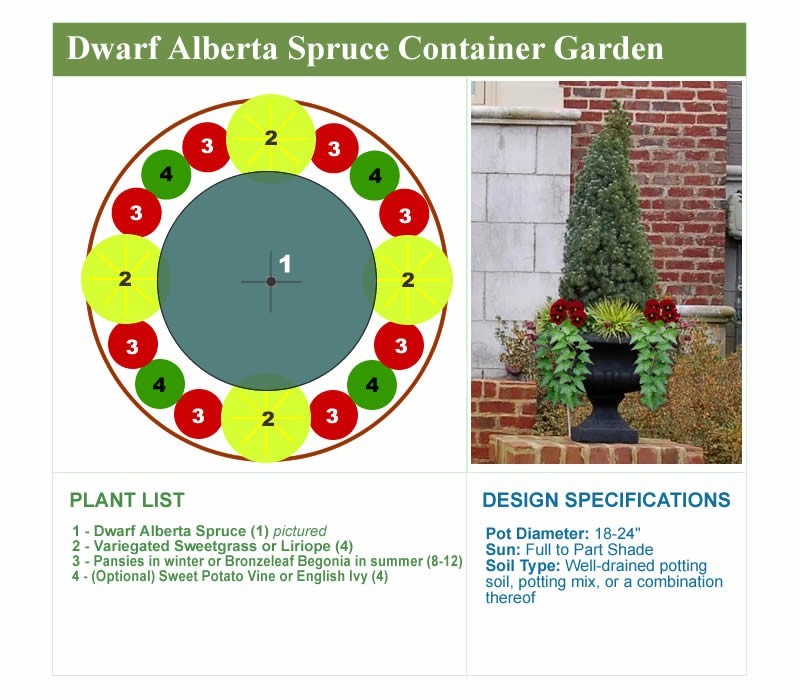 Plants Used in Design
Click on a plant below to find pictures and details on its Gardenality Plant File
1 - Dwarf Alberta Spruce - Picea glauca 'Conica'
2 - Golden Variegated Sweet Flag - Acorus g. 'Ogon' or Variegated Liriope
3 - Pansies - Viola
4 - Optional: Sweet Potato Vine - Ipomoea batatas (any variety) or English Ivy - Hedera helix (any variety)
IMPORTANT: Always be sure to check USDA Plant Hardiness Zones for each plant to make sure it will grow in your zone. If a plant will not grow in your zone ask your local nursery and garden center professional to recommend a comparable plant.