Growing Tomatoes
The tomato is an essential part of most gardeners vegetable garden every year. Many of us plan the rest of our garden around our tomatoes. They are that important. One thing about planting tomatoes is they are not that hard to grow. Add some tender loving care and a little water and compost and you should be enjoying this wonderful plants harvest before you know it.
By following a few simple steps you will be well on your way to a great tomato season, and eating your own home-grown, plump, juicy and tasty tomatoes
Types Of Tomato Plants
There are many "varieties" of tomato plants, but only two main types: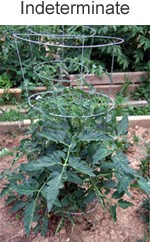 Indeterminate: Indeterminate tomato plants are actually vines that continue growing in length throughout the growing season. Also referred to as "vining" tomatoes, indeterminate tomato varieties will also continue to set and ripen fruit until killed off by frost. Tomato growers seldom allow tomato plants to actually vine. Indeterminate tomato plants will require substantial staking or caging to support what can become a large 6-10' heavy plant. However, tomato plants can easily be grown as a hanging vine. This eliminates the need for support, keeps the fruit up off the ground and permits the plant to grow in an open manner, allowing sunlight to reach throughout the plant.
---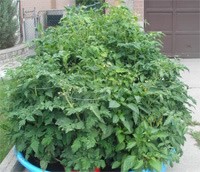 Determinate: Determinate tomato plants are varieties that grow to a fixed mature size and ripen all their fruit in a short period, usually about 2 weeks. Once this first flush of fruit has ripened, the plant will begin to diminish in vigor and will set little to no new fruit. Determinate tomato varieties are often referred to as bush tomatoes, because they do not continue growing in size throughout the growing season. They are generally smaller than indeterminate tomatoes, with most growing to a compact 4-5 feet. Pruning and removing suckers from determinate tomatoes is not recommended. Despite their compact size, staking or caging is still recommended, since the concentrated fruit set can contribute considerable weight to the branches. Many paste or roma tomatoes are determinate varieties. Some others bred to be determinate include: Celebrity, Marglobe and Rutgers. Growing determinate variety tomatoes makes good sense when you want a large omount of tomatoes all at one time, to make tomato sauce.