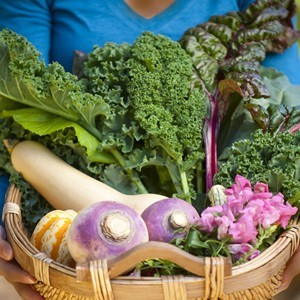 In the South, August is usually full of hot days and wilted plants. But then September rolls in with the promise of lower temperatures making it the ideal time to begin preparing your fall vegetable garden - if you haven't already.
Preparing your fall vegetable garden...
Remove summer plants. To make room for your fresh crop of fall plants remove any summer plants that are no longer performing well (such as tomatoes that have succumbed to disease or peppers that have burned out from the heat) or ones you have already harvested (for example potatoes, onions, or sweet corn). While you're at it, make sure to pull out any weeds so they don't steal moisture and nutrients from your young plants.
Restore nutrients that were used up by spring and summer crops. A light layer of compost (I use a product called Root Zone Organic Planting Mix) or aged manure, or a small application of organic fertilizer (I use Nitroganic Fertilizer) will boost soil nutrients in preparation for your fall crop. Turn or till in the compost layer or fertilizer to a depth of about 6 inches. Water the area thoroughly the day before planting or plant after it has rained.
Control pests. There might already be pests and diseases in your garden, so keep an eye out for holes or spots on plant leaves. If you see insects on plants either pick them off by hand or use an organic insecticide such as neem oil to control them. Be careful to spray neem oil when beneficial insects such as butterflies and bees are not active in the garden, which is usually early morning or late evening.
Planting your fall vegetable garden...
You can plant your fall vegetable garden with seeds or with plants purchased from your local nursery and garden center.
Plants. When planting your fall vegetable garden from plants, keep in mind that most fall vegetables should be in the ground by September 15 to Oct 15 at the latest. Cabbage, green and dry bulb onions, spinach and radishes can be planted as late as October 15. Transplants can be planted in garden soil with the top of the root ball at ground level. Refer to the plant labels or tags for suggested spacing of plants.
Seeds. When planting your fall vegetable garden from seeds make sure to refer to seed package label for planting instructions and proper planting time. While some cool season vegetables will handle a frost or freezing temperatures, other will only handle a light frost or no frost at all. So you want to time plantings based on the plant variety, its time to maturity or harvest, and its tolerance to frost.
When planting, refer to package label for planting depth and spacing. An old trick for germinating seeds in the summer is to plant the seeds in the garden soil, water them in well, then place cardboard over the row until the sprouts reach the soil surface; then remove the cardboard. Spreading a light organic mulch on top will help keep the soil cool and moist but should not be too heavy to interfere with germination. Mulching between rows also helps to keep the soil cool and decreases soil drying. In severe hot weather, place wheat straw loosely over the seeded row which should be removed as soon as seedlings begin to sprout so they can receive full sun. Refer to instructions on the seed package label for planting and thinning recommendations.
Succession Planting
Many varieties of vegetables can be planted in mid to late summer for fall harvests. Succession plantings of warm-season crops, such as corn and bean, can be planted in mid to late summer and harvested until the first killing frost. Then cool-season crops, such as kale, turnip, mustard, broccoli, and cabbage, grow well during the cool fall days and withstand light frosts.
Timely planting is the key to a successful fall garden. To help you decide what to plant and when, start with your area's average first fall frost date. To find out that forst frost date, do a Google search using the term "first frost date 'name of your city and state." Then look on the seed package or plant tag at the number of days to harvest for each vegetable variety you wish to plant.
The following formula for determining the number of days to count back from the first frost will help determine when and what to plant.
Number of days from seeding or transplanting outdoors to harvest + Number of days from seed to transplant if you grow your own + Number of days to maturity + Fall Factor (about two weeks) + Frost Tender Factor (2 weeks) = Days to count back from average first frost date. If you don't like equations, here's an example. If the first fall frost typically occurs in your area around November 15, and you want to grow 'French Breakfast' Radishes, which mature in about 25 days, you'd plant your last batch around October 20..
Choose vegetables with the shortest maturing time for late plantings. Keep in mind that many plants grow more slowly as the days get shorter in fall. The following list of vegetables are ideal for planting in a fall garden in Zones 7-9, many of which will grow even in the winter in zones 8-9, where temperatures rarely fall below 20°F.
Beets
Broccoli
Brussels sprouts
Cabbage
Carrots
Cauliflower
Collards
Kale
Kohlrabi
Leeks
Lettuce
Mustard
Radish
Rutabagas
Spinach
Swiss chard
Turnips
Caring for fall vegetable plants...
Mulch. Once young plants are established, apply heavier mulch to hold moisture and control weeds. Irrigate the young plants as needed so the soil remains adequately moist but not soggy or wet.
Pest Control. Due to colder air temperatures, there are usually fewer insect problems in the fall than in the summer. However, some insects, such as cabbageworm and corn earworm, may be worse late in the year than in summer. So you should check your crops frequently for insects.
Go to the next page to see my seven favorite cool season vegetables to grow in my central Georgia fall garden