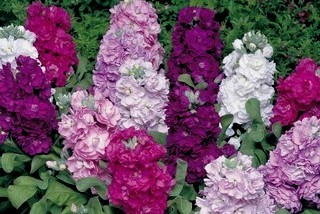 Stock (Matthiola incana) - Stocks grow their best in cool, humid weather. In warmer zones they will tolerate light frost and will bloom all winter in with the mild temperatures. In order to get the best flowering plants for winter choose plants in the nursery with flower buds that are already set. Plants that are set out in cool soil before flower buds have formed, may not flower or will flower very little. Plants require full day sun and well drained soil. Stocks are great cut flowers for arrangements in the home with their scent that will fill a room. Their fragrant blooms make them a nice annual to plant near walkways, patios, and entries where they can be enjoyed by all who pass by.
---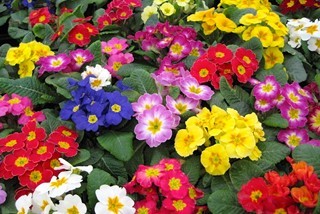 Primrose - In Southern California and the Southwest low desert areas the Polyanthus and English Primrose do well outdoors in the winter. In the Southeast the 'Pagent Mix' Primrose has performed well according to trials at the University of Georgia.
---
Viola - Violas are a great cool weather annual cousin to the pansy. Although the flowers are smaller they are just as hardy as the pansies but always seem to flower more reasily that pansies at times. Cut back in late winter when they get a little leggy looking they continue to fill in again and bloom well through Spring.
Johnny Jump Up Violas
Rebelina Viola
---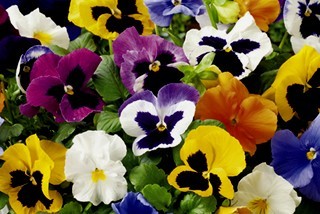 Pansy - This is the winter annual most of us in milder climates love for our cool weather garden color. Not only are they the most popular and recognizable but one annual that stands up to the cold even when the temperatures fall into the 20s. Pansies can really add a lot of color to your garden. The bicolored varieties are extremely beautiful with the amount of color they produce for their small size.
Blotched Pansies with faces
Clear Pansies
---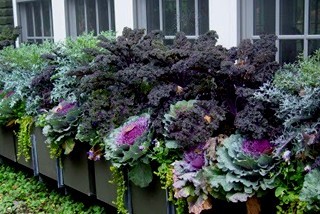 Ornamental Cabbage and Kale - These plants with their colorful foliage provide great accents in the garden during the cooler months. They work well when used by themselves or to complement flowering annuals such as pansies and violas. Although the ornamental cabbage and kale are edible they tend to be a little bitter and are mainly used as garnishes in culinary settings.
---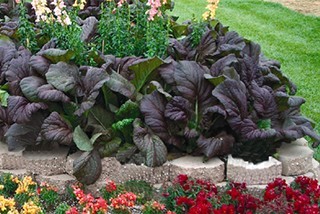 Mustard 'Red Giant' - Reddish colored leaves not only add color to your winter garden but can be added to your mixed green winter salads or cooked in stir fries and soups. Besides looking and tasting great they will grow outside in the winter, even under snow.
---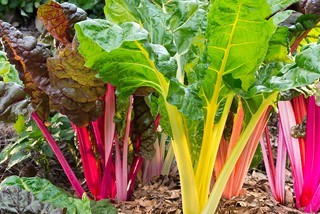 Swiss Chard 'Bright Lights' - This Swiss chard variety has Dark green leaves with tall, colorful stems. Not only do the brightly colored stems that are yellow, orange, red and pink add a lot of color in the garden but can be picked when mature to add to your dinner table.
---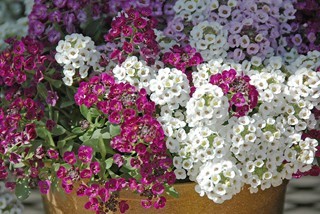 Sweet Alyssum - Also known as Carpet Flower. The low growing foliage and flower colors of white, violet, or pink make this plant a great edging for gardens and or a filler between gaps in pathways. Its creeping characteristic makes it a great annual in pots allowing it to cascade over the sides of the pot.
---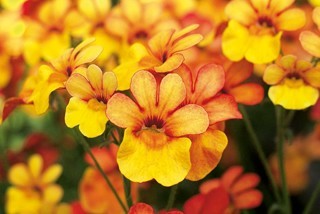 Nemesia - The Nemesia has small snap-dragon shaped flowers that come in a wide range of colors. The Nemesia grows from 1 to 2 feet tall with clusters of small flowers. Because the Nemesia small flowers will normally not fill a bed solid with color smaller lower growing annuals with larger flowers can be planted around the base of the nemesias. The smaller nemesia flowers work well in pots and outdoor beds that are near patio seating areas where they can be easily seen and enjoyed.
---
There are many more annuals that can be used for cool season color but these noted have done well for me in USDA hardiness zones 9 and 10 that receive only a few days if any with freezing temperatures. Having fewer choices for flowering annuals in the winter than in the warmer months many of us gardeners are always looking for new ideas. Others that know of or have had success with other annuals during the winter in these warmer zones can note them in the comment section below this article.