Extremely versatile, evergreen Camellias grow into attractive shrubs or trees that do well in garden beds or containers. The beautiful blooms of Camellias make excellent additions to cut floral arrangements, bringing outdoor beauty indoors.
---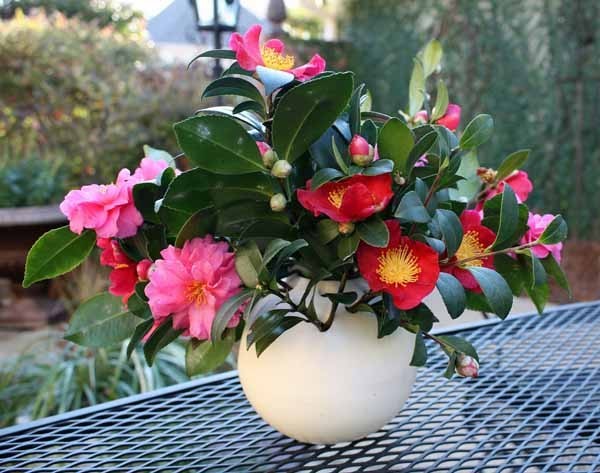 ---
Step-By-Step Instructions for Cutting Camellia Blooms
Cut camellia flowers during the cooler part of the day: in the morning or evening.
1. To remove a flower, start by cutting the flower stem at the bottom, keeping it long and removing it from the plant where another bud branches off from the stem. Place the stem into a bucket of water immediately after cutting. Continue cutting flowers until you have enough for your cut flower arrangement.
2. Wash the vase that will hold your cut flowers with warm water and a mild detergent. Then fill your vase with water.
3. Add floral preservative to water. Floral preservatives contain a biocide that prevents development of harmful bacteria that can cause your fresh cut flowers to wilt prematurely. Biocides are chemicals that kill the bacteria, yeasts and fungi that feed on the sap that seeps from the cut flower stem. Floral preservatives also contain sugars that feed the cut rose, and an acidifier that helps the water move up the stem more easily.
 - or -

If you don't like to use chemicals, or want to make your own vase water with floral preservative, simply add 1 part Sprite soda (not diet soda) to 3 parts of water, then 1/4 teaspoon of bleach per 1 quart of same solution. Or, you can add 2 tablespoons fresh lemon juice, 1 tablespoon sugar, and 1/2 teaspoon bleach to 1 quart of water.
4. One at a time, remove your camellia stems from the bucket of water and remove any leaves from the stem that would be submerged in the vase's water. Then, hold the bottom of the flower stem under water and cut it at an angle. With the stem still submerged, cut a vertical 2-inch slit in the bottom of the freshly cut stem. After cutting the slit place the stem in your vase that is filled with water and floral preservative.
5. Place your vase of cut camellia flowers in a cool area. Change the water in the vase every other day, trimming the bottom of the flower stems at each water change.