Idea 3: Japanese Rock Garden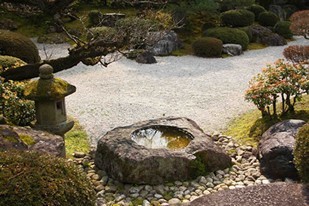 Japanese rock gardens, also called Zen gardens, are conceived and created from the meditative inspiration of the gardener. Many Japanese rock gardens use more rocks and gravel with few plants. The goal of the garden is to draw the viewer into a state of contemplation. If you want the raked waves style of many Zen gardens, be sure to use crushed granite instead of beach sand. The beach sand won't hold the raked wave patterns. Japanese rock gardens may also feature water, bridges, stone lanterns, and bamboo fences. Japanese rock gardens typically have few plants, but here are some suggestions for plants that work well in these gardens. For trees, choose a [Japanese Maple][2] or a gnarled pine tree such as the Black Dragon Japanese Cedar or Well's Special Hinoki False Cypress. If you have chosen a tree for the centerpiece of your garden, shade-loving shrubs are perfect for growing around the tree. Azaleas and Hydrangeas are popular choices. Bamboo can also be used effectively as a shrub wall and for partitioning sections of your garden. You can also use Boxwoods to great effect in a Japanese Rock Garden. The pure spirit of the Japanese rock garden is to imitate the intimate essence of nature and to serve as an aid to meditation about the true meaning of life. After finishing your Japanese garden, use it as a place of contemplation or just a nice spot for some hot green tea!
The North American Rock Garden Society has some additional tips and instructions for planning and growing your rock garden, and goes into greater detail than we can in this article. Check it out!
[2]: http://www.gardenality.com/Search/#Tab=Plants&PageIndex=1&PageSize=10&PlantSearch=null&SortBy=undefined&SearchText=japanese maple&Attributes=null