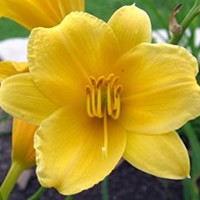 Daylilies are truly bullet-proof plants as they are most likely the easiest of all perennials to grow. They are resistant to most pests and diseases, they are drought tolerant, and they can take lots of abuse while continuing to happily grow and bloom.
Their genus name, Hemerocallis, means "beautiful for a day" in Greek, hence the name day lily. The blooms only last a day, but thankfully each plant puts forth continuous flowers over the course of several weeks. Some newer varieties, such as Stella De Oro, rebloom throughout the season.
Daylilies originated in East Asia and have been cultivated for thousands of years. They were first mentioned in a Chinese text by Chi Pai in 2697 BC. At that time they were grown as a food source, later used as an herbal medicine for increased willpower, and then for their beauty as a gift. In the 16th century, they were brought to Europe to be traded like tulip bulbs. In the 1920's Dr. Stout of the New York Botanical Garden brought many species to the United States through his associate in China, Dr. Steward. Dr. Stout started modern hybridization and began the knowledge base for growing daylilies today. Now, there are more than 40,000 registered varieties of daylilies in the commercial trade and they come in a vast assortment of colors, sizes and forms.
The colors of the first cultivated daylilies were only yellow, gold or orange, but now hybrids come in a myriad of colors and color combinations. They can be found in shades of almost all colors - red, pink, apricot, tan, purple, near-white and lavender. All colors except pure blue exist, as solid blue is the Holy Grail of daylily breeding and has yet to be attained. The hybrid flowers vary in size by variety and can range from 1 inch to nearly 8 inches in diameter. Varieties like 'Mini-Stella' (1" blooms) are considered to be miniatures, other small varieties such as 'Little Business' (3" blooms) are considered small flowered and large varieties like 'Yellow Mammoth' and 'Big Bird' (7" plus blooms) are called giants. Also, flowers of new varieties come in many forms. They can be simple single blooms such as the well known 'Stella de Oro,' double flowers like 'Siloam Double Classic' which can look like a carnation, spiders with elongated petals like 'Spiderman,' or unusual forms (UFOs) such as the recent award winning variety 'Primal Scream.'