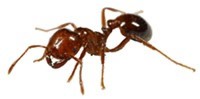 Imported fire ants are not native to the United States. Therefore, even though I usually don't recommend killing insects, these firey, pain-inflicting, biting critters are one of a few, such as the Japanese beetle, that make my 'extermination list'.
Fire ants first entered the country around 1918 near Mobile, Alabama, and have since spread throughout most of the southeastern United States. Their distinctive dome-shaped mounds in our lawns and gardens are unsightly and interfere with mowing and other activities, but it's their painful stings that cause the most problems.
Some stinging or biting native insects, such as wasps and bees, serve a much needed purpose: they pollinate our gardens and crops, and without their work, we'd all be long gone from starvation. But fire ants don't seem to do much...well, maybe they naturally till the soil? What would happen, though, if we didn't take steps to control fire ants? Would our land and gardens in the South become nothing more than one never-ending fire ant bed?
Actually, when not controlled, mound densities can reach 50 to more than 200 mounds per acre!
Fire ants don't intentionally go looking for people or pets to attack, but disturb their mound and they will defend it aggressively. Even one sting hurts but, more often than not, you'll get lots of stings.
Fortunately, there are effective treatments to control fire ants that are relatively inexpensive and easy to apply, but successful fire ant control has to be a preventive, ongoing effort. Fire ant control recommendations vary slightly, depending on the particular situation. Be sure to choose products that are labeled for the particular site where you plan to apply them.