Staking a Newly Planted Japanese Maple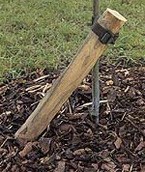 Single stake method: For smaller trees, use one long stake driven firmly into the ground so that it crosses the trunk of the tree at an angle a foot or two above the ground (depending on height of tree). Use a piece of cloth, panty hose or a section of rubber water hose to tie trunk loosely against the stake.
---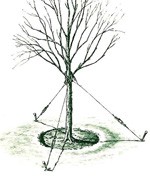 Triple stake method: For taller trees, you can drive three shorter stakes at a 45 degree angle into the ground evenly spaced beyond the outside perimeter of the planting hole. Use wire or nylon string to tie from the stake to the tree.


Tie wire or nylon string from the stakes to the tree trunk. You will need to tie to the trunk of the tree above some branches branches so that the guy wires do not slide down the trunk. Rubber hosepipe should be used where the wire touches the stem or branches of the tree to prevent rubbing.