BONSAI CONTAINERS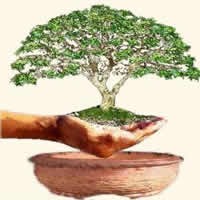 What Kind Of Container Should You Use? - The answer to this question depends upon the function of the container itself. Fundamentally, there are two kinds of bonsai pots: training pots and display pots. If your bonsai is in the training stage, then the pot you need to use is a functional training pot. Training pots are available made of plastic, mica, and even wood. Mica training pots are my personal favorite, as they are available in very large sizes at very reasonable prices. Nevertheless, there are many options and here at Bonsai Boy Nursery we have them all here for you to choose from. At this critical stage in the development of your bonsai, the most important thing is that you use a pot that is practical. It must reasonably and safely hold all of the soil or growing media that is required to provide the space for a healthy and stable root system to develop, good branching and the desired trunk thickness.
It is essential that any bonsai pot have large drainage holes to insure no water gets trapped at the bottom of the pot, because waterlogged roots will rot and be fatal for your bonsai.
Your bonsai will never really be ready for a display pot without all of these vital development stages having already taken place in a training pot.
What Types Of Containers Are Most Appropriate? - If your bonsai is fully developed to your complete satisfaction and you are preparing to show it, then it is definitely time to choose a display pot. Display pots are usually ceramic, because they must be frost proof, and are available with either a glaze or an unglazed finish. The most suitable display pot is one that enhances and not overshadows the beauty of your prized bonsai.
The most appropriate type of pot is an aesthetic, as well as, an able consideration and depends largely on the type of bonsai you are displaying and its horticultural requirements. The beauty of a deciduous or flowering bonsai is greatly enhanced when matched with a glazed pot of a soft, attractive color, such as: light blue, cream, or green. Conifer and evergreen bonsai when paired with an unglazed pot of an austere color, such as: brown, gray or reddish clay, are perceived in a way that reflects the severe environment of their natural habitat.
The length of your bonsai pot should be in direct relation to the height of your bonsai. A tall bonsai, in general, requires a long pot. In conjunction, the depth of your pot should be relative to the thickness of your bonsai's trunk. A thick trunk usually commands a deeper pot.
Of course, size guidelines are just that - guidelines. The needs of your specific variety of bonsai will dictate, for the most part, the size of the display pot you can safely utilize.
How Are Pots Pertinent? - The most pertinent feature of pots is that their form must follow their function. If a pot cannot sustain your bonsai, then it really doesn't matter how good it looks, because it will soon be empty.
Source: BonsaiBoy.com