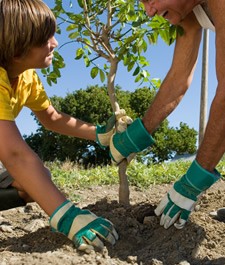 When Fall is here, the weather is becoming cooler, and we gardeners are migrating back outdoors after the heat of summer. At one time or another, most everyone has heard the saying "Fall is for Planting", and it's true! In addition to planting pansies, garden mums and other perennials, fall is a great time to plant trees and shrubs in the landscape. Contrary to popular belief, it may be the best season to plant trees and shrubs, surpassing even the spring.
Many people prefer planting shrubs and trees in the spring, which is a good time for planting, however, planting during the fall months, and even through winter in the South, offers distinct advantages. Fall planting follows the heat of summer, and precedes a cool winter season. Shrubs and trees planted in fall use this to good advantage. Plant roots grow anytime the soil temperature is 40 degrees or higher, which may occur all winter in areas of the South. During the winter months, the root systems of the fall-planted specimens develop and become established. Then, when spring arrives, this expanded root system can support and take advantage of the full surge of spring growth.
If you are planting larger "ball-and-burlap" trees and shrubs, which have been dug from a field, the dormant season (late fall and winter) is the optimum time for planting these. Balled and burlapped plants have ample time to recover from transplanting and proliferate roots before spring growth begins.
If you are planting bare root plants such as roses, pecan trees, fruit trees etc, these should be planted in late winter when they are completely dormant.