Step-By-Step Instructions for Planting Most Shrubs
Below are general guidelines for properly planting a container-grown shrub in the landscape. This planting technique is suitable for most average soils, particularly those found in the South, with the exception of sandy, quick-draining soils.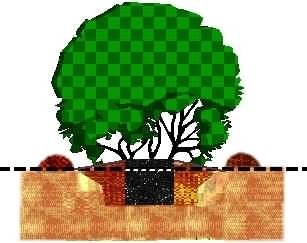 STEP 1 - Begin by digging a hole at least twice as wide as the rootball and no deeper than the rootball.
STEP 2 - Remove plant from container and scratch exterior of root ball to a depth of 2 inches to loosen feeder roots. Place in hole making sure that the top edge of the root ball is 1-2" above ground level. If necessary, place more soil in hole and tamp to achieve proper height. Note: If planting on a slope, where there will most likely be good drainage, you may plant with top edge of root ball even to ground level. Azaleas, Camelias, and Rhododendrons and other plants that do not like wet feet at all, may require higher planting, particularly if the soil in the planting area is consistently moist.
STEP 3 - Mix an organic soil ammendment such as mushroom compost, or your own home-made compost, at a 50/50 ratio with soil removed from the planting hole. Backfill soil mixture to top of rootball, tamping as you go to remove any air pockets, and taper gradually from top-edge of root ball to ground level. Essentially, you are planting the rootball in a 'raised mound.' Do not place any soil on top of rootball.
STEP 4 - With remaining soil mixture build a water retaining ring to around 3" or so in height around perimiter of mound.
STEP 5 - After planting water thoroughly.
STEP 6 - Broadcast a granular shrub fertilizer, or organic fertilizer, atop rootball in amount suggested on label. NOTE: An excellent alternative method of fertilization, is slow release Agriform Fertilizer Tablets. These will slowly release nutrients to your plant for a period of up to 2 years.
STEP 7 - To retain adequate moisture and suppress weed growth, apply a 2 inch layer of wood mulch, or a 4-inch layer of pine straw.
STEP 8 - Water your newly planted shrub deeply at time of planting. Thereafter, monitor soil moisture by using the finger test, and water when necessary. Most likely, your newly planted shrub will not need watering everyday. Over-watered plants can develop root-rot and die. A good soaking rain or watering once or twice a week is usually all that's necessary until your shrub is established. Once established, most shrubs will need little attention to watering, except during dry periods or prolonged drought. Shrubs planted during the Fall and Winter months, while in dormancy, will require less water.
Container-Grown Shrubs vs. Balled-And-Burlapped Shrubs
---
I recommend planting container-grown shrubs rather than field-grown shrubs. Container shrubs come with their entire root systems in tact, while field-grown shrubs lose many of their roots during the digging process. I've found that container-grown shrubs are easier to manage, root in faster, grow much more quickly, and have a much greater survival rate. This being said, if you want a very large specimen or you cannot find the shrub you want in a container, purchase a field-grown plant.