Creating A New Plant File On Gardenality Is Easy
...And You Get Credit and Recognition For Doing It!
YOU can help to expand Gardenality's Plant File database by creating new Plant Files.
Follow these step-by-step instructions:
---
Start by making sure you are logged in to Gardenality. Then click on the "Plants" tab in the main menu as shown boxed in red in the picture below. This will open up the Gardenality Plant Database.

---
When on the Plant Database page, scroll down until you see the section shown in the picture just below.
To Add A New Plant, click on the link shown boxed in red in the picture below.

---
Naming the Plant
---
Once on the Add A New Plant File page, do the following:
Name of Plant - Enter what you know to be the most widely recognized common name for the plant or tree. Do not enter the botanical / scientific name here. You will enter the scientific / botanical names later in the process of creating the new Plant File. For example: If you are creationg a plant file for Hemerocallis 'Stella De Oro', a daylily, you might enter Stella De Oro Daylily or Daylily 'Stella De Oro' in the name field.
Select Plant Category - Click on the drop down menu button next to the category field and select a category from the list. Example: If you are building a new Plant File for an oak tree, select Tree from the drop down list of category types.
Add Plant - Click on the green Add Plant button.

---
Adding Common Names To A Plant File
---
After clicking on the Add Plant button as instructed above, the Plant File Editor (shown below) will open. You will be in the "General" section (shown boxed in red below), where you can add other common names to the Plant File (shown boxed in blue in the image below). If you don't know any other common names associated with the plant, move to next section.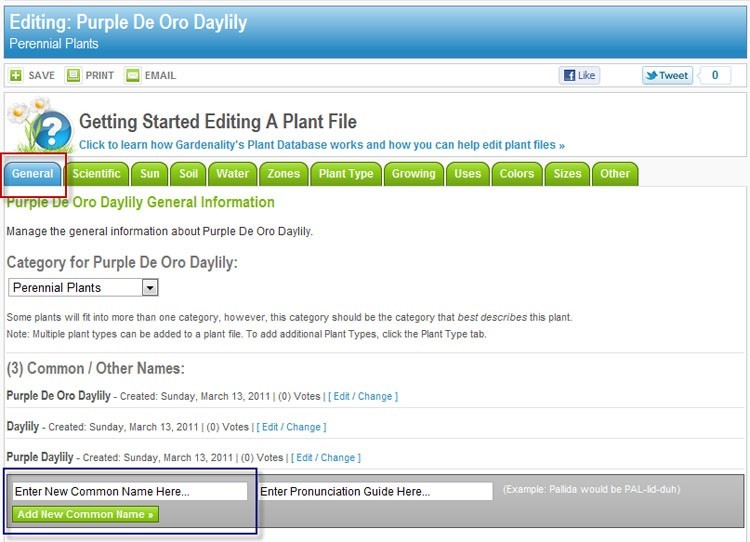 ---
Adding Scientific Names To Plant File
Adding, Sun, Soil, Water Needs, & Zones
Adding Plant Types & Growing Info To Plant File
Adding Landscape Uses To A Plant File
Adding Color Attributes To A Plant File
Adding Plant Size To A Plant File
Adding Other Information To A Plant File

Go to next page to find instructions for adding Scientific / Botanical names to the your new Plant File...