Overview of Tifway 419 Bermudagrass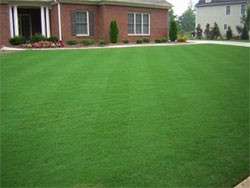 Tifway 419 Bermuda is a very dense and fine textured hybrid Bermuda grass available in sod-form only. It is low growing and spreads rapidly. Its density, fine texture and soft blades provide a soft cushion in which to walk and play. Although not required, for those willing to devote extra time in maintenance, Tifway 419 will provide an extremely high quality turfgrass and is recommended for residential and commercial landscapes, golf courses, parks and athletic fields.
Tifway 419 has a slightly slower green-up in spring than other turf type Bermudas. TifWay will tolerate sustained periods of drought once established, however, responds well to irrigation during dry conditions if higher quality turfgrass desired. Should be kept moist during sustained periods of extreme cold. Very good wear resistance and will withstand heavy traffic. Very good injury recovery-spreads rapidly by rhizomes in warm season.
Soil Preferences: Tifway 419 adapts to many soil types but prefers moderately loose or sandy soils for best performance. If you have clay-type soil that does not crumble when squeezed in your hand, add soil ammendments to existing soil at time of installation. Or, for existing lawns that are hard-packed aerate and apply sand, gypsum and/or soil ammendments to make soil more porous.
Light Requirements: TifWay 419 requires full sunlight most of day and should not be used in shady areas such as under large trees.
Climate Preferences: Heat tolerance is excellent, but not quite as cold tolerant as other turf type Bermuda grasses such as TifSport Bermuda and Patriot Bermuda. Can be grown from the lower region of zone 7 to zone 11.
Irrigation: To maintain a healthy appearance during the hottest months of summer, Bermudagrass needs about 1 to 1 1/4 inches of water a week. On sandy soils it often requires more frequent watering, for example, 1/2 inch of water every third day. A dark bluish gray color, footprinting, and wilted, folded, or curled leaves indicate that it is time to water. Proper irrigation may reduce pest problems and environmental in the summer.NOTE: Always water during the early to late morning hours and never at night. Watering at night will often lead to fungal development.