Overview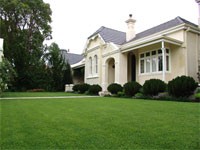 Often referred to as "The Cadillac of Lawn Grasses", Meyer Zoysia is a creeping, slow growing, warm season turf that produces a rich green color with proper maintenance. Meyer Zoysia forms a dense turf that limits weed encroachment while performing well in full sun to partial shade. The overall appearance and adaptability of Meyer Zoysia makes it an excellent choice for residential, commercial, and golf course applications. Meyers Zoysia is available in sod-form only.
Soil Preferences: Meyers Zoysia adapts to many soil types but prefers moderately loose soils for peak performance. If you have clay-type soil that does not crumble when squeezed in your hand, add soil ammendments to existing soil at time of installation. Or, for existing lawns that are hard-packed aerate and apply sand, gypsum and/or soil ammendments to make soil more porous.
Light Requirements: Meyers Zoysia grows best in full sun but will tolerate a little shade. Afternoon shade would be recommended as morning shade would not allow dew to dry from grass. Zoysia grass does not perform well around the root systems of large trees so is not suitable as an underplanting in these areas. It would be best to plant an ornamental groundcover plant under a large tree.
Climate Preferences: Meyers Zoysia has demonstrated excellent heat and cold tolerance. Its growing range extends from USDA hardiness Zones 6 through 11.
Irrigation: Though drought tolerant, to maintain a healthy appearance during the hottest months of summer, Meyer Zoysia needs about 1 to 1 1/4 inches of water a week. On sandy soils it often requires more frequent watering, for example, 1/2 inch of water every third day. A light green-grey color and narrowing of leaves indicate that it is time to water. Proper irrigation may reduce pest problems in the summer. NOTE: Always water during the early to late morning hours and never at night. Watering at night may cause fungal development.