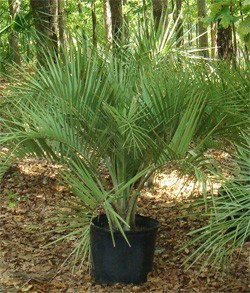 To plant a palm, use your round point gardening shovel to dig a hole about 30 percent wider than the root ball in sandier soils and 50% or more wider in denser soils.
If your soil is not lose but is very compact or dense, mix in some sandy bagged top soil, and/or straight sand, with the soil excavated from the planting hole. Avoid using peat moss or compost as a soil amendment as these might retain too much water. Palms prefer well-drained soil. After you have placed your palm in the hole and positioned it, backfill the hole with the soil mixture tamping lightly as you go to remove air pockets.
If the soil is very sandy and loose, you can build a soil berm about 3 inches in height around the perimeter of the planting hole to catch additional water from rainfall or irrigation.
Apply about 3 inches of shredded wood mulch around the palm tree, making sure to keep mulch a few inches away from the trunk of the palm.
If your palm is a tall one with a long trunk, you'll need to brace your newly planted tree. The tree brace consists of three wooden blocks with two adjustable straps that are designed to protect your new tree from storm and wind damage. You must acquire this brace when you purchase your palm tree at the nursery. The braces must be placed around the bark.
In the absence of rainfall or irrigation, water your palm tree every day during the first two weeks after you've planted it. Then, beyond the two week point, use a hose to "slow soak" the area around the tree to prevent it from drying out. During dry spells, this slow-soaking procedure should be done twice a month during the warm weather season and once every 6 months during the colder season.
Once established, your palm tree will rarely need watered provided there is average rainfall. Provide water during prolonged drought.