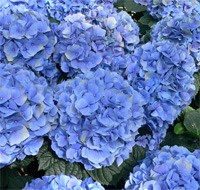 Endless Summer Hydrangea
Unlike other Macrophylla, ball-type hydrangeas that bloom on old wood, Endless Summer will bloom on both old and new wood. This means you can prune Endless Summer hydrangea just about any time, except for when there are buds forming on the plants. Don't want to remove the buds that will become the beautiful flowers!
That being said, Endless Summer Hydrangeas are very forgiving and will not suffer if left unpruned, or if pruned at almost any time of year. Young, recently planted shrubs are best left alone for a few years, however cutting some flowers during the blooming season for arrangements won't hurt at all. After the first flush of flowers have faded I usually deadhead them all. This encourages a second flush of flowers.
I do a somewhat heavy pruning on my Endless Summer Hydrangeas every three years or so to remove old stems/branches. The older stems will usually have a darker color. I cut these older stems in late winter to about a foot above the ground, making sure to leave a leaf bud on the stem. When done I've usually removed about 1/2 to 2/3 of the stems and the plant looks a little thin. But, when spring arrives and new growth starts to emerge from the old stems I cut back, the plants bush back out thicker than ever! After pruning, I fertilize with a well-balanced, slow-release shrub and tree type fertilizer.
---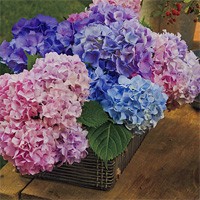 French Hydrangeas - Mophead Hydrangeas
These are the hydrangeas that produce the large, round clusters of blue, pink, white or red flowers during Summer. They bloom on the growth they put on the previous summer. This means that even though it is tempting to cut them back in the winter, when they are only bare sticks jutting out of the ground, don't do it! The flower buds are already formed and hidden in those bare sticks, so don't cut them off if you want flowers.
French Hydrangeas (Mopheads) should be pruned right after they flower when the color of the blooms start to fade in summer. Reach down into the bush and cut off the stems to about a foot high, right above a bud. The plant will put out new growth and form a nice round ball shaped bush. Do not prune French hydrangeas beyond two months prior to the first frost in your area.
---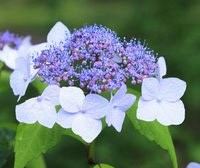 Lacecap Hydrangeas
Pruning is not necessary. If you want to prune to improve the shape of the plant, be careful to prune shortly AFTER flowering because flower buds are formed on the previous season's growth. Prune these hydrangeas only in the summer before July/August to be sure that you are not cutting off the stems that hold the flower buds for the next season. For older plants, older than 4-6 years old, the general rule is to remove about a third of the old wood/branches by cutting them down at ground level during the summer. This allows more light into the plant and helps revitalize the plant.
---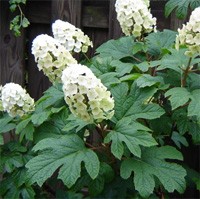 Oakleaf Hydrangeas
Oakleaf varieties can be left unpruned indefinitely. However, if and when it does become necessary to prune, this is best done in late summer or early fall, at any time after it has finished blooming. Any pruning is merely done to limit size or for aesthetic shaping. Fall pruning reduces size of next years blossoms. Oakleaf Hydrangea can be pruned in spring, though there is a risk of losing buds. However, if there are buds left after spring pruning, the blossoms will be larger. No pruning at all simply produces more but smaller blooms.
---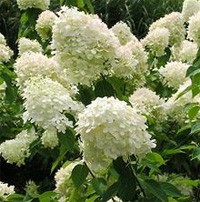 Hydrangea Paniculata (Pee Gee) and Arborescens Varieties
Paniculata hydrangeas, such as PeeGee and Limelight, and Arborescens varieties such as Annabelle and Incrediball, can be left unpruned indefinitely. These types of hydrangeas bloom on new wood (new stems). Any pruning is merely done to limit size or for aesthetic shaping by removing stray, broken, dead or crossing branches. Pruning is best done in summer or early fall after the plant has finished blooming or in late winter before new growth begins to emerge. Avoid pruning these hydrangeas when they are preparing to bloom in spring as this will effect flowering. Paniculata hydrangeas (PeeGees) are the only hydrangeas that can be pruned into a tree-form. To tree-form a PeeGee-type Hydrangea simply remove lower branches by cutting them as close as possible to a trunk. If there are more trunks than you like, these can be removed as well by cutting them to the ground. Just be careful to notice how the removal of a trunk will effect the canopy.
---
Buy Hydrangeas at GardenerDirect.com
---