Corrective Pruning of a Crape Myrtle
---
If you or someone else has pruned or sawed off a crape myrtle too far, such as shown in the photo below, it may be difficult if not impossible to restore to it's prior shape and form. However, there are ways you can prune from now on to re-create a nice shape and form.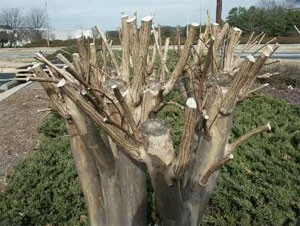 In the image above this mature crape myrtle tree (12-15' height) was sawed down to 5 to 6' above the ground leaving unsightly 5" diameter stump caps. But, if this has been done, at least you still have 5' high trunks to start over with. If trunks have been sawed off to 2 or 3' above the ground it would have been better to cut them all the way to the ground - as when "rejuvenation" pruning.
So, if your mature crape myrtle has been cut back or sawed off too far, and you would like to attempt to reform it to a nice tall tree, with a nice and full canopy, you might try the following:
Allow the branches to grow naturally the first year. When pruning the following late winter or early spring you can top all of the branches at the same height; several feet above the top of the sawed-off main trunks. This might extend the height of the canopy a few feet as new branches will grow from just beneath where you made the cuts. From this point on you could follow the pruning technique on the previous pages in this article.
The image below is another example of how your crape myrtle should NOT look after pruning! This one was pruned to the knuckles.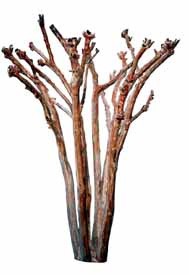 Corrective pruning for a crape myrtle that has been pruned to the knuckles
Next pruning time, just don't prune branches all the way back to the knuckles. Instead, leave a 6" to 12" long branch/ stub that will be strong enough to support the two new branches that emerge from beneath where you make the cut.
Controversy
There is much controversy, even among "professionals" in the industry, as to the correct method for pruning crape myrtles, or if they should be pruned at all. I have been pruning crape myrtles since 1984 using the method described in these instructions and have formed some exceptionally attractive trees with sturdy, well-shaped canopies that grow denser and produce twice as many blooms each year that goes by. That being said, I do stop pruning the tops of crape myrtle after they've reached a height where I can no longer prune them when standing on the ground using a pair of long-handled lopping pruners. From then on I prune only suckers growing from the base of the tree, side shoots growing beneath the canopy on the main trunk, and stray or broken branches that spoil the shape of the canopy.