Pruning Instructions for Crape Myrtle Tree
---
TOOLS I USE FOR PRUNING CRAPE MYRTLE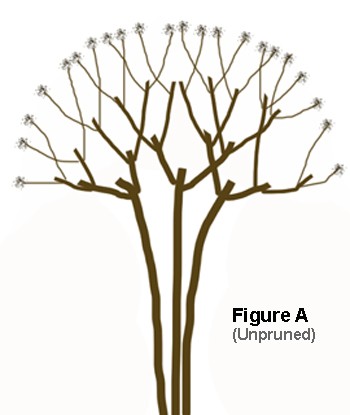 To the right is a drawing (Figure A) of a 4-year old crape myrtle tree as it may appear in late winter, when still in dormancy, and before new growth has begun to emerge. This tree has been properly pruned for 3 years and is ready to be pruned for the coming year. At the top of the branches you will notice seed pods that formed after last seasons blooms. In studying the diagram more closely you might notice where pruning cuts were made in previous years, and that wherever cuts were made two new branches emerged from beneath the cuts.
---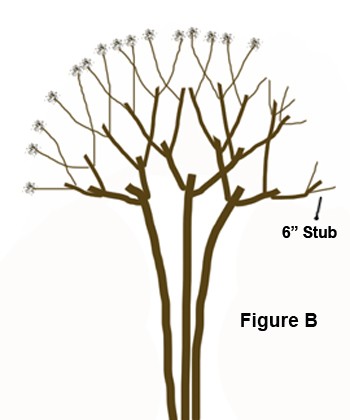 Figure B, to the right, indicates where to make cuts when pruning your crape myrtle tree. The rule of thumb is to trace down from the top of a stem (from the seedpods if the tree bloomed), to where that stem meets a branch. Using a pair of sharp bypass or lopper pruners make a cut about 6 to 12 inches or so above the intersection - never below the intersection. Alternatively, you can grab the tip of stem and bend it over, making your cut right at the point where the stem starts to bend. Either way, the stub that is left should be strong enough to support the new branches that emerge just below your cut. Repeat this process until all stems have been cut as is shown in Figure C below.
---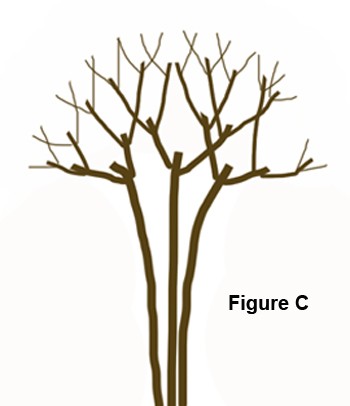 Figure C, to the right, shows a crape myrtle that has been properly pruned. All top stems have been pruned to 6 inches or so above the intersection where the stem meets a branch. Two new stems will emerge from beneath your cuts. By using this method of pruning you will be promoting twice as many branches every season - which means a fuller canopy and twice as many blooms. To further "clean up" your crape myrtle tree, you can prune suckers that grew from the trunk base, and twiggy growth that emerged up and along the main trunk(s).