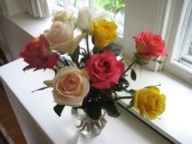 Growing roses that are good for cutting can be very rewarding. They can provide us with beautiful cut roses that can be cut and brought indoors to be placed in vases.
As beautiful as cut roses are we know they will eventually wilt. However, there are steps you can take to preserve them longer and several useful things you can use them for after they have faded. Read on.
When is the best time to cut roses?
The best time to cut roses is early in the morning or late in the afternoon when it has cooled. Morning is when the plant is filled with stored food and the flowers are most fragrant.
Cut when roses are beginning to open or are open.
Follow the instructions below to keep your cut roses fresh longer:


1 - Start by cutting the stem at an angle with a sharp knife. Cut your stem at a point where from the base of the stem to the bud or flower will measure twice the height of the vase you will place them in.
2 - Remove any leaves from the stem that would be submerged below the water in your vase. Do not remove thorns as this tends to shorten the life of your cut roses.
3 - Immediately after cutting, place your cut roses in the vase filled with lukewarm water.
4 - Add floral preservative to water. Floral preservatives contain a biocide that prevents development of harmful bacteria that can cause your fresh cut roses to wilt prematurely. Biocides are chemicals that kill the bacteria, yeasts and fungi that feed on the sap that seeps from the cut flower stem. Floral preservatives also contain sugars that feed the cut rose, and an acidifier that helps the water move up the stem more easily.
5 - If you don't like to use chemicals simply add 1 part Sprite soda (not diet soda) to 3 parts of water, then 1/4 teaspoon of bleach per 1 quart of same solution. Or, you can add 2 tablespoons fresh lemon juice, 1 tablespoon sugar, and 1/2 teaspoon bleach to 1 quart of water.
6 - The stems can be recut daily to allow them to drink. Make new cuts with the end of stem under water to keep an air bubble from formaing at the base. As you transfer the newly cut rose back into the vase a small droplet of water will cling to the stem end. This prevents the bubble from re-forming and allows your rose to continue to drink.
7 - Keep vase away from direct sunshine and avoid setting on top of tv's, stereos or any other appliance that emits heat. Also, keep cut flowers away from fruit, which releases a gas that causes flowers to age faster.
8 - Change the water in you vase every two days. Don't just top it off.
What to do with faded roses?
You don't have to throw faded roses away - there are several other useful things you can do with them:
Cut them up and add them to your compost pile or bin.
Hang them to dry for use in sachets, wreaths and aromatherapy preparations.
Bake rose petals in cakes, breads and cookies. For a 9 x 13-inch cake, fold 2 cups loosely packed petals into the batter.
Press flowers for use in making personalized notecards.
Hope this informations helps you to enjoy your fresh cut flowers for longer!