Theres really not much to pruning spring flowering bulbs such as Daffodils and Tulips.
Here's all you have to do: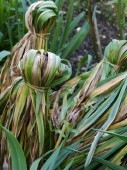 Avoid removing foliage from spring flowering bulbs after they have bloomed. Foliage should be allowed to die naturally since it sends nourishment back into the bulb for the next year's growth and flowers.
If foliage is long enough after blooming has finished, try tying it in a knot. This helps to keep it more attractive until it dies completely.
After foliage has died completely it can be removed.
That's about it!