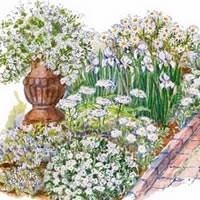 Theme gardens are a great way to put your creative and artistic side in action. One of the funnest theme gardens to plant is a color garden. You can plant multi-color gardens that incorporate several different colors, or a mono color garden that will concentrate on one color.
Mono Color Theme Gardens
When creating a mono color garden you will look for foliage and bloom colors. A mono color garden will not only have one shade of a particular color but similar shades of the color. For intance, a Blue Garden will have shades of blue ranging from pale to dark blue while a Twilight or Evening Garden would include whites, yellows and other light color shades that will reflect the moonlight or be visible when it is dark outside. A Black Garden may include plants that produce deep purple to black flowers or foliage.
TIP: Use the Plant Search to find all the plants that produce a flower in the same color categories. When using the Plant Search first select theHardiness Zone / Temperature you garden in. All the plants that grow in your zone will appear below the search. Then select the color under Flower Color. This will narrow down your search to only plants that produce flowers in that shade of color. You can further narrow your search by choosing sun exposure, soil type and so on.
Multicolor Theme Gardens
In a multicolor theme garden colors can be combined that represent company, organization or team colors. Flags, symbols, and logos can also be created using multicolor combinations.
Multicolor theme gardens are also useful to create hot or cool effects in the landscpae garden. A hot theme would include bright shades of red, yellow and orange while cool themes would include shades of white, blue, pink and purple.
You might also plant a multicolor theme garden that includes only pastel or antique shades.
Use the Plant Search as instructed above to find plants that produce various colors of flowers you'd like to include in your multi-color garden.