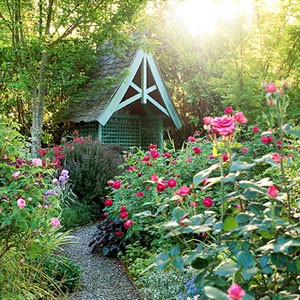 What do you envision when you hear the term cottage garden? If you're like most American gardeners, you probably conjure up images of thatched-roof stone cottages, hedgerows and quaint English village life. If you live in a suburban split-level bounded by chain-link fence, this fantasy may seem too remote to attempt.
It can be liberating to consider what really makes up a cottage garden. Actually, cottage gardens are mostly small, personal, individual, eccentric, spontaneous gardens created by amateurs.
Resourceful gardeners look first to native plants, which are hardy and appropriate to the region's style. Does this mean that a cottage garden in Georgia and other regions of the South can contain native azaleas (rhododendron canescens) and a pine tree or two? Sure, with the addition of foxgloves, liatris, gaillardias, butterfly weed, and a host of other cottage garden beauties suitable for the area.
If you've been growing flowers and vegetables among the fruit trees and vines, choosing plants because they're interesting to you, listen to this: You are already a cottage gardener! Following basic guidelines of seasonal bloom and size placement, you can fill your garden with colorful flowers and shrubs to please butterflies, bees, birds, and people. And remember, no garden is ever truly finished; experiment, learn from mistakes, and have fun all along the way.