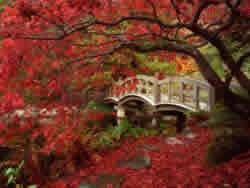 When considering a location for a Japanese garden you will no doubt be constrained by the type of area you have - you may be really lucky and have unlimited area in which to create your garden sanctuary, but generally, most of us are not that lucky. A popular spot to build a water garden is in the back yard, near a deck or other sitting areas.
Perhaps the simplist way to get started with planning a Japanese garden is to build the garden around a water feature: a garden pond or container water garden if there isn't enough room. If you choose a pond, keep it on the smaller side, and keep it simple.
First, pick a spot spot for your water feature and then build a garden pond (or have one built) or create a container water garden. Keep in mind that moving water is part of the Japanese garden style. Integrate a small waterfall to add the soothing sound of moving water in your garden area.
Place plants and other items around it - maybe enclose the area with a fence, hedge or screen planting of tall evergreens?
Look for unusual items that will be placed in our Japanese garden. Answer these basic questions:
Will there be fish in the garden? Will they be humble goldfish, which will only require a small pond or other water feature, or expensive Koi that will require a larger body of water?
Will there be a wooden bridge over your pond or over a stream that connects two ponds?
Dining area? A parasol or umbrella for shade?
Sitting area?
Does the site provide easy access for bringing in boulders and other materials? If not, then consider using smaller, one or two man boulders verses ones that way a ton or two.
Is there a need for privacy? If so, will a wooden fence or bamboo screen be used, or plants?
Then review these other items for consideration:
Lanterns/Pagodas
Statues
Birdbaths
Fountains
Lighting
Furniture - dining, parasols, benches, lounge chairs, chairs
Wooden bridge
Pagodas/Lanterns
Statuary
Stones for path(s) or patio - should be real stone
Boulders/Rocks - should be real stone
Planters/Containers