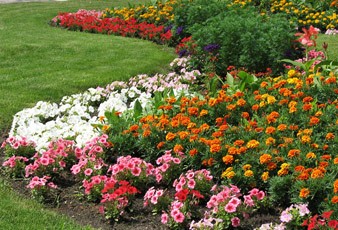 Regarding weeds growing in your annual flower beds, there are four ways to safely go about weed control without killing your flowers:
Pull them by hand. Self explanatory. Just make sure you don't pull your flowers out while pulling out the weed!
Use a weed preventer at planting time. Your local nursery and garden center should have weed preventers listed for use in annual flower beds. Avoid weed preventer / fertilizer combination products. Ask for a weed preventer only. Fertilize seperately.
Apply a layer of wood mulch to prevent weed growth. Mulch not only prohibits weed growth, it also helps to retain moisture. Mulch is especially important in "raised beds" where soil tends to dry out more quickly.
CAREFULLY spot spray weeds in your flowerbed with a postemergent weed killer listed for use in flower beds, such as Hi-Yield Killzall. Killzall kills just about any plant it is sprayed on. This method is not recommended unless you have very sharp eyes and steady hands and feet. When your annual bedding plants have filled out it will be virtually impossible to use this method without damaging or killing your desirable plants. If you do use this method, make sure to spray when there is no wind to prevent drift of spray to desirable plants.