---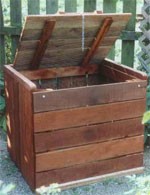 Veteran gardeners swear by compost. It's unrivaled for adding readily available nutrients and beneficial bacteria to vegetable garden soil, or adding to the back-fill mix when planting shrubs, trees, perennials, annuals, and container plantings, promoting healthy and vigorous growth of plants. Plus, compost is an environmentally smart way to turn household food waste and vegetative landscape and garden waste into something besides a bulge in your garbage bag.
Making your own compost is most simply done with a compost "pile," which involves nothing more than piling up leaves, clippings, kitchen scraps and other materials into a heap, and waiting for it to ferment. But, if you have an aesthetic sense, you might prefer building a compost bin. A compost bin is fairly simple to make.
Here's a list of materials you might need for building a 4-feet by 4-feet by three-feet height wooden or wire-mesh compost bin:
4 pallets for sidewalls (usually can be found at hardware or building supply stores, grocery stores, or garden centers)

Or

You can buy 1"x6" lumber at your local building supply center. Make sure to buy cedar or cypress as these woods hold up better and longer against the weather and elements.
For wire sides: about 16-20' of 3' height wire hardware cloth.
Four 4x4 corner posts cut to 5-foot length. Fenceposts and landscape timbers work good too.
Nails or wire to attach the sidewalls to the posts.
Metal hinges or latches for the removable door or wall. (One wall needs to be removable for access to "turn" the compost from time to time.)
Constructing The Compost Bin
---
STEP 1
Choose a level site that is preferably shady, has good drainage, and is easily accessible.
STEP 2
Install the 4 corner posts, which should be about 4-5 feet in length (5 feet if you want to bury the posts 2 feet under the ground). Space the corner posts at 4 foot apart in a square. Dig holes with post hole diggers to a depth of 12-24 inches so that 3 feet of the post will be above ground. Place post in hole and back fill with soil tamping as you go. For better stability, you can set the posts with concrete or Sakrete if you like.
STEP 3
Attach pallets, boards, or hardware cloth to three sides with nails or wire. Attach 4th sidewall with hinges or latches so that it will be removable or so you can open it. If using 1"x6" boards for the sides leave small gaps between each board so that the pile can breath. This helps speed up the composting process. You won't be putting a top on your compost bin. Leave it open as rain helps speed up the composting process.
You are finished building your compost bin. Now it's time to start making some compost!
---
Making Compost With Your New Compost Bin
STEP 1
Add about a foot or so of leaves, lawn clippings, shredded paper, kitchen scraps, cow or horse manure and other composting material you can find to begin the composting process. Then apply 1 to 2 pounds of high-nitrogen organic fertilizer such as blood meal, guano, or poultry manure. Finally, add 2 inches of soil.
STEP 2
After about 3 weeks turn the mixture good with a shovel or pitchfork. Do so again about every 2 to 3 weeks or so. If the mixture seems too dry hose it down. When the matter is uniform brown, crumbles, and is odorless, it is ready for use in the landscape or garden.