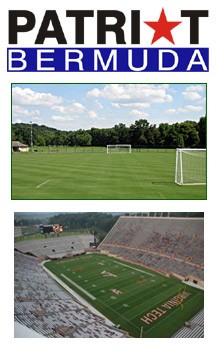 Patriot Bermuda is an excellent grass for any yard. It is a dense, high performance turfgrass. Patriot offers excellent cold hardiness compared to other hybrid Bermuda grasses with overall high turf quality. Patriot is well suited for areas requiring high quality turf such as: golf course tees and fairways athletic fields home landscapes commercial landscapes parks and playgrounds. Its appearance and quality is is on par with the best commercial varieties such as Tifway 419, Tifsport, and Tifgreen. However; Patriot ranks higher in areas of:
Extremely vigorous growth
Wear tolerance
Rapid divot recovery
Early spring greenup
Freeze tolerance
Patriot is rated one of the most cold hardy Bermudagrasses on the market. It is disease resistant and wear tolerant. Patriot has an extremely rapid rate of establishment, and, if done properly, you can go from planting to playing in far less than 90 days. Patriot is clearly the bermuda grass of the future.
Patriot is highly suited for areas requiring high quality turf, including fairways, tee boxes, playgrounds, athletic fields and residential lawns. Patriot performs best when maintained at 0.38 to 1.5 inches. Mowing frequency is dictated by mowing height.