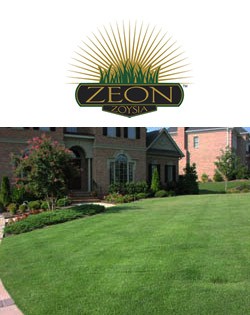 Zeon® is a new variety that is fast becoming one of the most popular zoysias on the market for growing in USDA Plant Hardiness Zones 6-11.
Zeon®, the "barefoot grass," is a fine blade zoysia great for sun and shade. It is disease and insect resistant, and considered to be the replacement for Emerald Zoysia. Zeon® has a bright green color and will establish well in many different types of soil.
Zeon® is similar to Emerald Green zoysia in appearance with a fine bladed leaf texture. It is also very shade tolerant and, unlike Emerald, does not have a prickly feel. Produces less thatch than other zoysia varieties except Jamur.
It can handle full sun or light to medium shade. It has good drought tolerance and very few insect or disease problems. A well-maintained lawn will provide the best resistance against weeds, disease and insects. Zeon possesses a very dense root system that helps prevent weed problems.
Installation
Zeon® cannot be grown from seed, so it must be planted from sod or sprigs. Sod is the best way for instant beauty and a lush yard. Water the sod as you lay it. Do not wait until you are finished to water it. It will take about two to three weeks for complete establishment.
Maintenance
After the establishment period is over, keep a regular schedule of watering and mowing, and we think that you will be extremely pleased with the quality of your turf. Recommended mowing height is 1-2 inches. Recommended annual fertilization rate is one to two pounds nitrogen per 1,000 square feet. Use split applications with one pound nitrogen in the spring to encourage new growth and one pound of nitrogen in mid-to-late summer to promote healthy growth into the fall and winter.