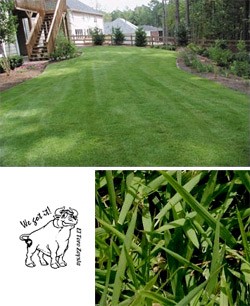 El Toro is a patented variety of Zoysia grass that will grow in USDA Plant Hardiness Zones 7-11. It was developed at the University of California-Riverside.
El Toro is medium to coarse textured with medium width blades and beautiful dark green color. It performs well in both sun and partial shade, and maintains its color well into fall.
El Toro has been tested to be very drought tolerant, requiring less water than some of the other zoysia varieties. It also is very easy to mow with a rotary mower.
El Toro also produces little or no thatch and is disease resistant.
El Toro is excellent for home lawns and golf courses.
Because it is slower growing than other Zoysia's, El Toro will require less frequent mowing.