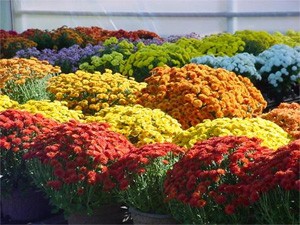 When Fall arrives, it's hard not to regret the passing of all the summer blooms...but not to fear, Fall Garden Mums are here!
Hundreds of hardy cultivars of mums can provide an array of colors and bloom shapes in the Fall garden. The blooms last for weeks, not days, and the sheer number of flowers per plant will convince anyone that this flower really likes to show off. Add the mum's impressionistic abilities to its longevity, and you have a perennial plant that pulls its weight in the garden year after year.
Because of their tight, mounded habit and stunning bloom cover, fall garden mums are perfect for mass planting, which will have all passersby rubbernecking. To get the maximum effect from far away, stick to only one or two colors. Another possibility is to arrange a gradual transition of related colors. When the planting will be viewed from up close plant every color you can find for a very wild but interesting effect. Look around your yard to see what colors would best complement the existing landscape. If you decorate for fall with pumpkins and gourds, choose orange, bronze, yellow, and creamy white mums. If you have a lot of evergreen plants that provide a backdrop of varying shades of green foliage, try bright pinks, lavenders, pure whites, or reds. With such bold colors, a large grouping of mums can excite even the most drab of fall landscapes.
Garden mums are also great for planting in containers and window boxes. You can plant them as stand alones in a container or mix them with other fall blooming plants. When they finish blooming at the end of the Fall season remove them from their container and plant them in the garden if you like.
Among all the hundreds of varieties (cultivars) available you can extend the mum show in your garden by choosing according to their bloom times. Some are early season bloomers while others will wait until mid or late season to start flowering. Most well-stocked nursery and garden center will offer many varieties to choose from. Most garden mums will withstand a light fall frost, but finding the right cultivars will provide the longest possible amount of pleasure.