Annual or Perennial?
Not all mums are hardy - you have the Hardy (perennials) and the Florist (annual) types. Mums aren't as expensive as many perennials, so if you choose to, you can plant them as annuals without worrying that you've spent too much money on something that might not live more than one season. If you're an impulse buyer, you'll probably see pots of colorful mums this Fall and not be able to resist.
When planted in Fall, perennial hardy mums usually have time enough to root themselves in, however, it's a good idea to mulch them heavily with pine straw for insurance.
Whether you're looking for a quick splash of color or a fixture for your border, mums are the pick for a colorful Fall.
Mums come in an array of bloom forms. The most common bloom shapes are:

Decorative form produces masses of tight, pincushion-like flowers with long, tightly overlapping petals that entirely cover the foliage. They flowers can be either incurve (where petals curve up and in toward the flower center) or reflex (where petals curve out and down, away from the flower center).
---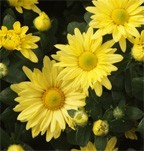 Daisy form produces masses of large, daisy-like flowers with a central eye-zone that entirely cover the foliage. Flowers consist of one row of petals that surround a center dish.
---

Spoon Tip form produces masses of unique, large, daisy-like flowers that have spoon-like petals.
---

Pompon form produces masses of smaller, globe-shaped flowers that are petal-packed and entirely cover the foliage.
---

Quilled form produces masses of spider-like flowers with narrow, wuilled petals.