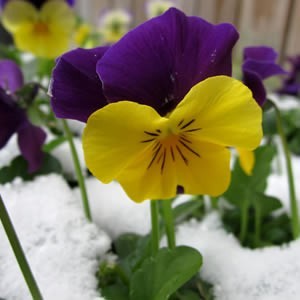 The first time most beginning gardeners hear of pansies they can't believe you can plant them in the fall season and they'll bloom all the way through winter and into spring. People can't understand how a flowering annual plant that looks as tender as a pansy can withstand the cold.
Pansies are winter wonders. In regions where winters are colder, pansies will not only survive the winter but bloom through it as well! A severe cold snap might wither individual blooms however, during warmer days of winter, the plants will continue to produce buds and flowers.
Pansies are very easy to grow. Here's the lowdown on how to grow them, starting with cultural requirements...
Sun Needs
Pansies like all the sun you can give them, though will tolerate a light amount of shade. Planting under deciduous shade trees is okay as long as sunlight sines through after leaves have fallen in fall.
Soil Needs
Whether growing in the ground or in pots, pansies grow best in a well-drained, moist, loamy soil. Constantly soggy soil will weaken and even kill plants. When planting in the ground it is best to plant them in well-prepared mounded beds that are 6 to 10 inches above the existing grade. This will not only assure good drainage but will also improve the visibility of the color display. More on planting on the next page.
pH
Pansies prefer a pH in the range of 5.4 to 5.8. A soil pH above 5.8 can result in boron and iron deficiencies; therefore, avoid liming pansy beds out of habit, unless the soil test indicates a need for lime. Mixing in a good aged compost can help to create more acid soil conditions. When in doubt about soil pH, you can always test the soil with a pH testing probe or soil test kit.
Where to plant pansies
Position raised flower beds as focal points throughout your landscape. Entryways are a great place to start, such as at either side of the entry to your driveway or walkways or near the front door of your home. Containers, pots and hanging baskets can be placed on sunny decks, patios, porches and any other outdoor living areas or garden beds.
Go to page 2 for pansy planting instructions...