Pansy Companion Plants
Yes!...there are other plants that will thrive in the outdoor landscape during the winter months...and many of these are perfect for combining in beds and/or pots with pansies.
---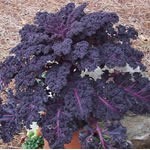 Ornamental / Flowering Vegetables - Perhaps the most popular pansy companions are the many selections of flowering cabbage and flowering kale, such as the Red Bor Kale pictured right - one of my favorite pansy companions!. These "flowering" vegetable plants make colorful accents or centerpieces in combination beds or container plantings with pansies.
---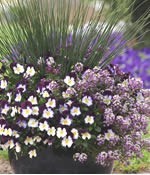 Ornamental Grasses - There are several ornamental grasses that provide a unique texture and attractive, vertical accent in pansy plantings. I really like several varieties of the evergreen Rush grasses (Juncus) for use as centerpieces in beds or containers. The lower growing Sweet Flags (Acorus) are very nice as well.
---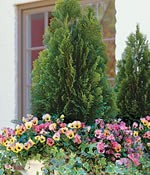 Coniferous Evergreens - Evergreen conifers, such as the conical-shape Emerald Green Arborvitae pictured right, Hetzi Column Juniper, Carolina Sapphire Cypress, Leyland Cypress and many others, make excellent centerpieces or backdrops for pansy plantings in flowerbeds or container gardens. These evergreen plants also make perfect little Christmas trees that can be lighted during the season and then removed from the container or bed and planted elsewhere as a permanent fixture in the landscape.
---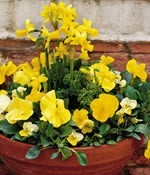 Bulbs - Tulips, Daffodils, Hyacinths and other spring-flowering bulbs can be planted at proper depths beneath pansies in garden beds or container plantings. In the swpring, foliage and flowers from these bulb plants will rise above or be nestled among your pansy flowers. Creative gardeners can really come up with some neat combinations of textures and color.
---
Other Nice Pansy Companions
Fragrant Plants - Rosemary, Tea Olive and Winter Daphne will add fragrance to a pansy planting.
Other Cool Season Flowering Plants - Other cool season flowering annual and perennial plants, such as Violas (which are dwarf pansies), Snapdragons, Dianthus, Nemesia, and Diascia provide a different texture and flower-look in pansy combination plantings.
Other Evergreen Plants - Dusty Miller, Heuchera, Autumn Fern, Holly, and Parsley are others I often use in combination with pansies.
---