My Info tab
In this section, you can change your Account Info at any time: Name, E-mail, or Password. To change any information on your Account, click the "My Info" tab in your Account Manager.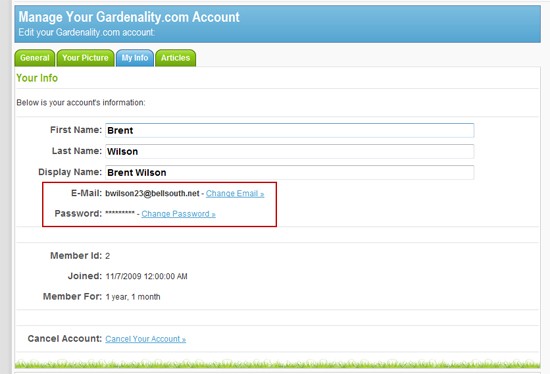 Articles tab
In this section, you can write a brief biography about yourself that will appear on every Article you write and publish in the Gardenality Article Database.

Many Gardenality Members like to write and publish articles in the Gardenality Article Database. These articles can be viewed by other Members of Gardenality and random visitors. Articles are a great way to provide knowledge you have to others who might appreciate and use it to become better gardeners themselves. Publishing Articles in the Gardenality Article Database can be an especially valuable tool for business owners who want to gain valuable exposure.
SEE: How To Create And Publish An Article In Gardenality
Whenever someone lands on an Article Page in Gardenality, and you are the author of that Article:
At the bottom of the article, a "Meet The Author" section appears with your Profile Image, your Author Bio and a link to your Profile.
At the top of the Article Page, just below the title of the Article, a link to your Gardener Profile appears. When a visitor clicks on your Profile Name, he or she is directed to your Gardener Profile.