Getting Started
---
Using the Create A Virtual Garden System, you can create:
FUTURE Gardens - These are gardens you intend to plant in your yard at some time in the future. It could be a butterfly garden, cottage garden, mailbox garden, vegetable garden, shrub garden, or any other garden you want to plant in your yard.
EXISTING Gardens - These are gardens that exist and are growing in your real yard at home. You can upload a picture(s) of an existing garden and then add the plants that are growing in it. This is a great way to log and store, and show others, the plants that are growing in your garden(s).
WHEELBARROW - This is not an actual garden you will plant, but a holding area for plants you've found within Gardenality that you like, but are not sure which Garden you want to plant them in. As you are browsing through the Plant Files or other areas within Gardenality, you can click-to-add any plant to your Wheelbarrow. Then, later, you can move any of these plants from your Wheelbarrow to any of your Future or Existing gardens.
What's really neat is that after you've added plants to one of your gardens, the Gardenality Cooperability System will tell you if these plants will work in the particular environment of your garden. All you do is provide a little info about the garden site, and the system goes into action to tell you which of the plants you've added to a garden will work in your garden and which ones won't. Sounds impossible...but it works!
If all this sounds foreign and a little difficult to understand, rest assured, it's not! The instructions provided below and on the following pages will have you building new Future and Existing gardens in no time at all!
---
How To Create A Garden
---
From your My Garden Homepage, press on the My Gardens & Gardening link, as shown below, and then select Create A New Garden.
Where is your My Garden Homepage and how do you get to it?
You can get to your My Garden Homepage by clicking on the 'My Garden' tab in the main menu near the top right corner of any page in Gardenality.

---
Set Up of Your New Garden
---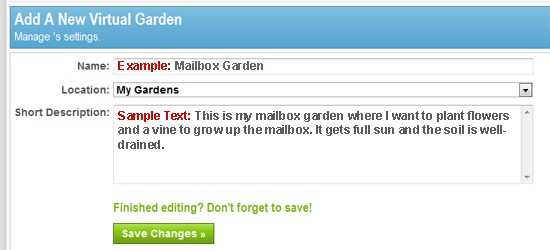 After clicking on the Create A New Garden link as shown in the picture above, the first thing you'll do is name your new garden. After naming your garden, write a short description for your new garden. Then click on the green 'Save Changes' button as seen in the picture to right.
Note: You can come back to change the name or description of your garden at any time.
---
Go to next page to see how to start adding plants to your new Garden...