You can grow practically every type of plant in containers - from flowering and foliage annuals and perennials to vegetables and herbs to trees and shrubs.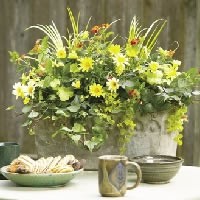 Container planting is a great way to add color to your garden, curb appeal to your home and enjoyment to your life. Its a versatile way to liven up your personal space and have lots of fun doing it. With pots, you can let your imagination run wild. There are endless combinations. And best of all, you can do it easily and affordably.
Don't let lack of experience, space or time put a damper on this gardening project. All you need is an hour or two, a suitable container, some lovely plants, and a sunny or shady place on your patio, deck or porch.
If you dont have space for a vegetable garden, or if your outdoor space doesnt provide the necessary elements to produce the flower garden youve always wanted, consider the possibility of "container gardening." A patio, deck, balcony, or doorstep can provide enough space for a productive, attractive display.
If you live in an apartment with limited outdoor space, you might consider doing a little indoor gardening. By using sunny window sills, you can grow a number of herbs.