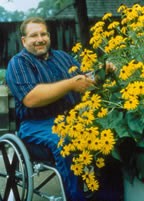 While space (or lack of it) is an obvious reason to try container gardening, that's not the only reason people choose this method. Often, convenience plays a big part, especially for vegetables and herbs. Having these essentially at your fingertips is a tremendous advantage.
Time
For busy two-worker families who don't have time to produce a large garden, a number of well-placed pots on the deck often can do the trick. For those who can't garden anymore, sometimes a simple tomato plant conveniently located by the back door may be enough to satisfy the craving for fresh vegetables and to recall memories of days past.
Accessibility
Container gardening can be done inside the home or just outside doorways on decks, porchs and patios. This makes it more accessible to those who are handicapped or confined to a wheel chair. Too, container gardens planted just outside windows can provide a nice view from inside the home.
Mobilty
The mobility of container gardening makes it easy to rearrange and resculpture your garden and to add new elements of interest and beauty. Container plantings provide great flexibility and versatility as well. It's easy to rotate plants to update the look of your space and makes it incredibly simple to care for them.
Economy
Smaller spaces result in smaller costs. Initial set-up costs may be a little more, but once the appropriate containers and materials are purchased, costs are minimal. You will buy fewer plants, less media, and less fertilizer than for traditional gardening.
Display
Just as a garden can be a work of art, a well-planned container garden can too. Carefully selecting plants will result in a beautiful, yet functional, display with function.