Getting Started
Generally speaking, most plants grown in garden soil can also be grown in containers, provided there is ample space and the right conditions for plants and roots to develop and grow.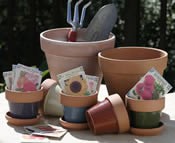 Good drainage is essential when growing plants in containers, unless, of course, you are planting aquatic plants in containers that will be submerged under water in your garden pond. Otherwise, plants that do not like wet feet (consistently wet soil) will most likely decline and/or develop root rot if the container does not drain properly. Root rot develops when a plant is literally drowning in water and, therefore, its roots can no longer breath or absorb nutrients properly.
Equally important is soil media and fertilization. The planting soil or potting "mix", and fertilizers, will be selected based upon the type of plant and its growing requirements.
Container choice will be important as well. The size and weight of the container, and whether it has adequate holes for drainage will be things to consider if you want to be a successful container gardener.
Appropriate Containers
The first step in planning your container garden is to decide on a container. Just about anything that can hold soil and offers drainage qualifies. All containers, whether they be made of clay, wood, concrete, metal, plastic, or ceramic, should have an adequate number of holes in the bottom for proper drainage - unless, as mentioned previously, you are planting a container water garden.
The containers size will be determined by the plant(s) you intend to grow in the container. Select your plants first, then look for a container that is the appropriate size.
Mini Containers: Many types of annual or perennial succulent plants, sedums, cactus, hens and chicks, and other small-growing plants that do not require a lot of attention to watering can be grown in mini containers that are 6 inches in diameter or less.
Small Containers: Many smaller growing annual bedding plants, perennial plants, succulents, cactus, herbs and vegetables such as lettuce, peppers, and radishes can be grown in a container at least 6 inches in diameter with an 8-inch soil depth.
Mid-Size Containers: Deep rooted, and larger-growing perennials and annual bedding plants, many dwarf shrubs, tomatoes and other vegetable plants such as squash, pole beans and cucumbers can be grown in mid-size containers that are 14 inches or more in diameter and 10 or more inches deep. Bushel baskets, half barrels, wooden tubs, clay pots, and 5 gallon buckets that are used when growing tomatoes upside down are just few examples of mid-size containers.
Large Containers: If you intend on growing a small to mid-size tree or shrub in a container, such as a Japanese Maple or upright Holly, keep in mind that high winds can tip them over. To prevent tipping, plant these taller growing specimens in heavy, large concrete containers or planters - or other types of planters that will be attached to a solid and sturdy surface. Know the mature size of the plant so that you can purchase the appropriate size container.
TIP: When growing taller plants or trees in outdoor containers, weight placed inside the bottom of the container can help to keep pots from tipping over from high wind.