Moving A Plant From One Garden to Another
You can move any plant from one of your gardens, or from your Wheelbarrow, to another one of your gardens.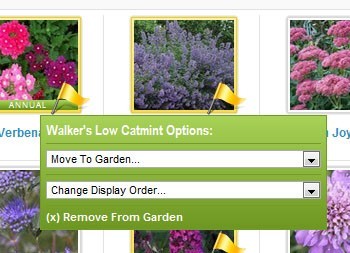 How To Move A Plant
To do so, simply left or single click on the image of a plant and then select which of your gardens you would like to move this plant to.
Using this tool you can also:
Change the display order of the plants in your garden. This allows you to group certain types of plants together for easy reference.
Remove a plant from a garden. When you remove a plant from one of your gardens, it does not remove it from other gardens you might have it in.
How To Create A Garden In Gardenality
Creating A New Garden
Adding Plants To Your Gardens
Managing Your Garden
Cooperability
More Virtual Gardens Tips