Uploading Pictures on Gardenality
So you'd like to upload one of your pictures to Gardenality...that's wonderful we'd like that too!
---
How To Upload A Picture
---
Before you can upload a picture to Gardenality, the first step is uploading the picture you've taken with your camera to your computer, and saving it to a file on your computer. Then you can upload the picture from the file on your computer to Gardenality.
NOTE: Right now you can upload JPG images to Gardenality with support for PNG and other types coming soon! This means that when saving a picture on your computer, it will need to be saved in JPG format before uploading to Gardenality.
It is important to note that the size of your picture can greatly increase the time it takes to upload. If you are taking pictures on 172 megapixel then you might need to leave your upload screen on until Christmas. Actually the site will eventually give up and give you an error.
That is not to say we don't want high resolution pictures, we do, generally a size of 1600 pixels width by 1200 pixels height or smaller make for the best of both worlds...high resolution on the site...quick to upload! For best results, pictures uploaded to Plant Files should be a minimum of 800 pixels wide by about 500 pixels height. Otherwise, if you upload a smaller picture it may be pixelated or distorted.
---
Right now, there are four places you can upload your garden and flower pictures to:
---
1 - PLANT FILES
If you have a close up picture of just one plant be sure to upload it to that plant's Plant File. Your picture will be featured on the plant file and if it gets enough ratings it will appear everywhere that plant is shown throughout all of Gardenality!
How Do I do that?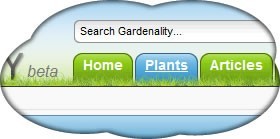 First you have to find a Plant File that matches the plant picture you want to upload. To find the plant you want to upload your picture to, click on the 'Plants' tab in the main menu (next to the Gardenality logo) at the top of every page on Gardenality.
---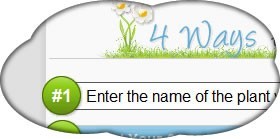 Then, when on the Plants Home Page, type the name of the plant you are looking for in the search (#1). If you don't find it, try entering another name, or only one word in the name. If the plant you are looking for shows up in your search, click on the thumbnail image of it. This will take you to the Plant File for that plant.
NOTE: Some plants may not be in the Plant Database yet. If you don't find the plant you are looking for, send us a message and we'll build it for you, or build a new Plant File yourself!
---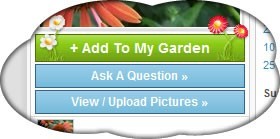 When at the plant file page, look just below the picture of the plant and you will see a blue link button that reads: "View / Upload Pictures" or "Upload My Pictures." Click on this button to upload your picture.
OTHER TIPS: If you know how to do it, pre-size and crop your plant pictures in a photo editor to 800 pixels wide by 500 pixels height before uploading them to a Plant File. Otherwise, you can upload any size picture and slide the crop box up or down to crop. When taking a picture of a plant or flower, it's best to have the flower or the plant in the center of the image.
---
2 - GARDENS
These pictures are the pictures you have taken of your various real life gardens. Be sure to upload these to each of your Gardenality gardens so that Gardenality members can see your hard work and give your garden a green thumbs up!
How Do I Do That?
In your My Garden Homepage you can create Virtual Gardens. These Gardens can represent real life gardens you have growing in your yard or future gardens you intend on planting later. Of course, you won't have a picture of a "future" Garden, which is yet to be planted in your yard, but you can upload pictures to your real life Gardens. Once you have created a new real life Garden you can upload pictures to it. Just go to the Garden and click on the Pictures tab. Sound confusing? Click here to learn more.
Okay, you spend hours and hours making your gardens beautiful and now it is time to share the beauty with the world!
Uploading Pictures Of A Garden
Follow these steps to share pictures of your gardens: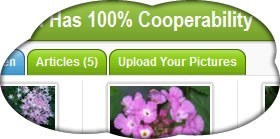 1. To upload pictures of your garden start by clicking on "My Garden" (the tab in the Main Menu on every page of Gardenality - the one with the flowers around it.)
2. Then, when in your My Garden Homepage, click the green button with the flower pot labeled "My Gardens & Gardening." NOTE: If you have just joined Gardenality, it may be necessary to scroll down your My Garden Homepage, past the 9 "Getting Started" tips, to find the My Gardens & Gardening tab.
3. Next, click MY GARDENS.
4. Pick the garden that you want to upload your picture to.
5. Once the garden has loaded, click on the "Upload Your Pictures" tab (it is the the last tab on the right directly above the plants in your garden.)
6. From here you can click the "Upload A Picture" link to upload picture as well as see any pictures that you have previously uploaded to the garden.
Once you upload pictures to your garden they will show up on your garden whenever someone looks at your garden. Be sure to take good pictures because other members can rate your garden and you want to be sure you are showing it in the best possible light!
---
3 - QUESTIONS
When asking a Question in Ask Experts, you can upload pictures that can help get you the answers you need. If you have some weird fungus growing on your tree, take a picture of it and upload it to the site and an expert can help you identify your freaky fungus. After you've asked your question, and it has been published, look for the Upload A Picture link to the right of your name where it appears in your question.
---
4 - ARTICLES
---
Those who want to share their gardening knowledge and experience can write and publish articles in Gardenality. You can upload pictures to insert into your articles as well as uploading a header image for your article. When uploading images to your article, you can crop them as needed.
---