GET FAST RESULTS And A Greener Lawn With LIME LITE Limestone!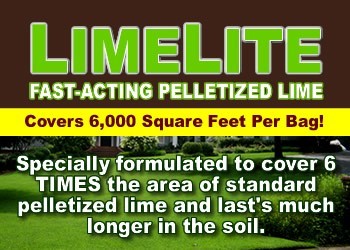 One 30 lb. bag covers up to 6,000 square feet!
Stays in the root zone longer
Raises soil pH faster
Improves fertilizer effectiveness
Environmentally friendly
Safe will not burn your lawn
Easy to apply with any type spreader
Safe for use around pets
Buy Lime Light Limestone online at GardenerDirect.com
Why Use LIME LITE?
If you want to create the foundation for a healthy, green lawn establishing and maintaining proper soil pH is the key. Most lawn grasses, including Bermuda, Zoysia, Fescue, and Bluegrass grow best at a soil pH between 6.5 to 6.9. Soil pH will naturally decline over time due to excessive rain, acid rain, irrigation and soil erosion.
LIME LITE Lime is specially formulated from natural limestone and performance enhancers. It improves fertilizer effectiveness by adjusting the pH of the soil. This makes your lawn greener and healthier. It also adds calcium and magnesium, two important nutrients essential for lawn and garden growth.
How do I know if my soil has low pH? If you have bare spots, excessive weeds, or your grass isn't as green as you would like it to be, you probably need an application of lime.
What effect does low pH have on fertilizer effectiveness? If your soil's pH is acidic you are wasting the fertilizer you apply. The following is a guideline for how much may be lost:
Extremely Acidic 4.5 pH = 71%
Very Strong Acidic 5.0 pH = 54%
Strongly Acidic 5.5 pH = 33%
Medium Acidic 6.0 pH = 20%
NOTE: Soil pH test kits are available at most nursery and garden centers or you can buy a soil test kit online here. Yopur local Extension Service might also provide soil testing services.
How is LIME LITE Lime different from pelletized, granular or pulverized lime?
LIME LITE Lime is pelletized limestone specially formulated with a time release technology (CLP), a process that holds the essential calcium and magnesium nutrients of lime in the root zone longer, reducing the quantity of lime required to correct low pH levels. Combining this new technology with our high-grade lime produces longer lasting greener lawns with less product, saving you time and money.
Here's the difference in application rates:
LIME LITE: One 30 Pound Bag covers up to 6,000 Sq. Ft. (7 bags/acre!)
Dolomitic Pelletized Lime: One 40 Pound Bag covers only 1,000 Square Feet (44 bags/acre)
How and when should I apply LIME LITE Lime?
Apply 5 lbs. per 1,000 sq. ft. anywhere on your lawn and or vegetable garden. Use any type lawn spreader, following settings on the bag or per the manufacturer's recommendations. LIME LITE Lime will never burn your lawn and is effective anytime. However spring and fall applications are recommended for optimal performance.
Where to buy...
Check with your local nursery and garden center to see if they carry it or you can buy Lime Lite Limestone online at GardenerDirect.com