About Japanese Maples
Japanese Maples (acer palmatums) are a widely cultivated family of plants useful as small trees, large shrubs, container plants, and bonsai.
Contrary to popular belief, Japanese maples are surprisingly easy to grow and maintain when properly situated and planted. They are generally winter hardy to about 20 degrees F, and grow from zones 5-9 in the United States.
Japanese Maples can be grown in the ground or in pots. Container culture can extend their useful range. They are extremely easy to grow in containers, a practice taken to it's most extreme form in the art of bonsai.
Aside from their aestheticaly pleasing appearance and ease in growing, one well-placed Japanese maple can add hundreds or thousands of dollars in value to your property. For example, a lace-leaf 'Tamukeyama' Japanese maple we planted on our our property, which at planting time was valued at $79, was appraised at $3,700 after only 5 years of growth!
Most any garden soil will grow Japanese maples, but the soil must be well drained! Wet soggy soil around the roots is a killer. Good thing is that a Japanese will often let you know if their feet are too wet if and when the leaves brown on the tips, though this browning can also be a sign of leaf scorch. They grow in a wide range of soil pH preferring a slightly acidic soil. The main thing you want to do when planting a Japanese maple is pick a site that offers good drainage - or do what is necessary to provide for good drainage.
Japanese maples will grow in sun or shade. In the deep South they benefit from some afternoon shade. In their natural habitat, Japanese maples are understory trees, growing in dappled forest sunlight and at the edges of woodlands. Ideally they prefer to be grown in similar conditions. Bright sunlight and hot summers do not kill trees, but in hot summer areas, the newest leaves may burn and scald when exposed to full, all-day sun.
Young Japanese maples should have a consistent supply of water during the first 2 or 3 years after planting. Do not over-water them though. Just make sure to check them during prolonged periods of dry weather and provide them with water as necessary to maintain proper health. Established trees can withstand considerable dry spells and periods of drought with no problems at all, but young trees may dry up and die under the same circumstances. Water problems during the early years of establishment, whether it be a lack of or too much water, is the number one killer of young trees.
Few pests or diseases afflict Japanese maples, and no regular spraying or controls are necessary.
There are several groups of Japanese maples to choose from with most falling into either of these two categories:
---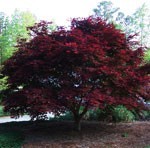 Palmate Group - Leaf lobes are deeply divided 2/3 to 3/4 of the way to the leaf base. These are upright-branched (not weeping) and taller growing varieties such as 'Bloodgood'.
Pamatums are available in shades of red and green leaves.
---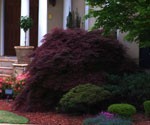 Dissectum Group - Also known as the "lace leaf", the leaf lobes are very deeply divided and deeply dissected into sublobes. These are usually weeping or cascading in growth habit and mounding in form, such as the ever-popular 'Crimson Queen', though there are several upright varieties.
Dissectums are available in shades of red or green leaves.
The cultivars are all grafted hybrids. Normally they are grafted close to the top of the soil line, but most laceleaf varieties are grafted between 12" to 24" high on the root stock to create a small trunk for the weeping branches to descend from. This reduces the need for staking and creates a larger, fuller plant faster.
---